Paul Nicholls talks to Mark Souster about why winning big races is more important than championships
A decade or so ago Paul Nicholls was the dominant force in British jump racing, regularly winning the sport's most coveted trophies. He has won the Magners Cheltenham Gold Cup four times and the 32Red King George VI Chase on 10 occasions and helped make the likes of Kauto Star, Denman and Big Buck's household names along the way. While Nicholls has certainly been no slouch since, he's had to bide his time in trying to win on the biggest stages again.

However, the message now from Manor Farm Stables is very much that the 10-times champion trainer is once more beginning to flex his considerable muscle and has the biggest races in the sport within his grasp. The 56-year-old could easily be focused on adding an 11th Champion Trainer's title for the mantelpiece.
After a week in which he sent out a record eight winners from 24 entries on Saturday and then passed the landmark of 3,000 winners on Wednesday and cleared £2m in prize money this season, few would forgive him for doing so. But it is the sport's showpiece events which still excite him the most.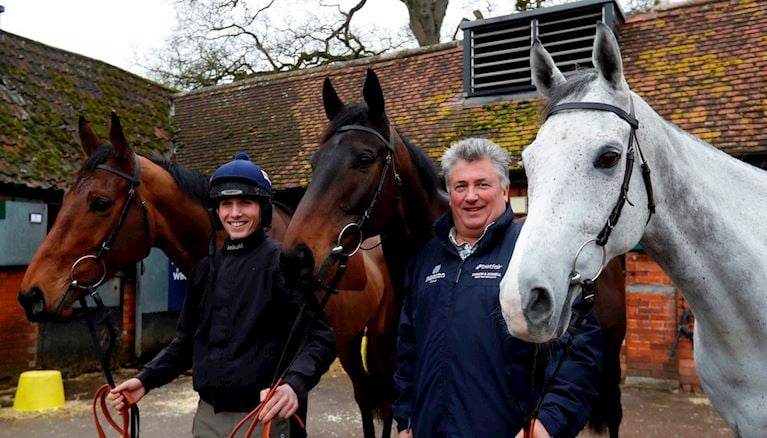 "I have been lucky enough to the championship as many times as I have," Nicholls said. "But what I like is winning those big races. Winning the Gold Cup again would be wonderful. Championships are nice but they are not the be all and end all."
He now has the ammunition to win those races with the likes of Clan Des Obeaux second favourite for the Magners Cheltenham Gold Cup and Cyrname the highest rated jumps horse in Britain.
Rebuilding the squad

Nicholls has always insisted that it would take time to rebuild his equine squad and that he had to be patient. "One of my favourite sayings is that Rome was not built in a day," he added.
"It takes a lot of patience with these horses. That is the main thing I have learned over the years. I am quite good at giving them time to get the best out of them when they are old enough to show it. When you have faith in them you have to give them time."

Slowly but surely under his watchful eye he has done just that in similar fashion to Sir Alex Ferguson one of his celebrity owners, who, in his career as Manchester United manager, fashioned three great teams.

Ferguson is a partner in Clan Des Obeaux, who won the King George on Boxing Day, and Give Me A Copper with TV presenter Jeremy Kyle, who has the Randox Health Grand National in his sights.

While Nicholls highlights the importance of waiting to run horses when they are ready, he is also grateful to have high profile owners who are just as patient.
"It's good to have the likes of Sir Alex and Jeremy Kyle on board," Nicholls said. "They put in bit of money and they have waited and their patience is being rewarded. It is great to have them involved."

It is impossible not to be impressed by Nicholls, not least in the way he conducts himself with remarkable equanimity. He would only be human to feel frustrated at the repeated reminders of his glory years and questions about whether they would ever return.

Yet he has treated every enquiry with politeness, stressing that great horses do not fall from the skies.

"Those good horses are so hard to come by," he continued. "I was blessed and lucky to have all those amazing horses at one time. I wondered if I would ever have that level and quality again because it really was a once in a lifetime group. But we are and have some really smart horses again.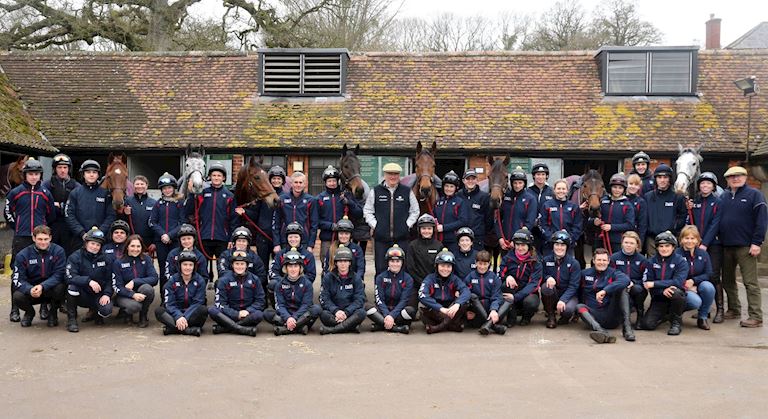 "We are gradually getting there. The strength in depth is the best it has been for the past five or six years. Next year we will be even stronger than we are now, because we have so many nice young bumper horses, maybe 15-18 who I purposely haven't even run over hurdles this year. They'll all be five next season and going novice hurdling.

"Then I have got another lot who've just turned four - about 15 more - that will come in to what I call big boys schooling in the spring."
Cheltenham and beyond

He will have a team of between 15 and 20 for The FestivalTM presented by Magners and is hoping that his prescient decision to vaccinate his horses against equine flu every January – when others did not - might give him an edge.

"It has obviously helped a little bit. We have always done it and it has put us in a good place. Some trainers have been caught unstuck by it. For some trainers it will be a bit of an inconvenience.

"We are not going to have masses at Cheltenham. In the past we have had up to 40 runners. But I won't waste shots. If there are races in which I think a horse had no chance there is no point in going. It would be better to go elsewhere.

"Getaway Trump is an example. He would probably run tidy in the Ballymore and finish not too far away. But there is a £50,000 race at Kelso next week and I might go and have a look at that. And go there and then Aintree.

"It is great to be in this position. Everyone has a spring in their step. I love the game now as much as I ever have done. I could not imagine doing anything else."

It might be 10 years since he last won the Cheltenham Gold Cup, and seven since he won one of the Festival's Championship races. But few would argue that the glory days for Nicholls and his impressive Ditcheat team might be just around the corner again.