CHARLIE APPLEBY REVEALS WHY PINATUBO IS BETTER THAN ANY OTHER TWO-YEAR-OLD HE HAS TRAINED
by Mark Souster
Charlie Appleby is without question one of racing's good guys. A trainer who is held in the highest esteem by his contemporaries but whose achievements in the Godolphin hot seat has not changed him at all.
Appleby remains as down to earth as the day he started out and no-one begrudges him the success he has achieved. The modest, unassuming 44-year- old is invariably keen to deflect praise towards Sheikh Mohammed, the Dubai ruler whose faith in Appleby when appointing him in 2013 has been amply rewarded.
He has committed almost his entire working life to the Godolphin cause and, as such, they are his extended family.
"My team at Moulton Paddocks has all grown up with Godolphin together," he says. "If you were to ask me whether I needed to or wanted to change anything to take this to the next level – I couldn't think of anything. To use the football analogy I could not think of any player I would need to bring in or change position."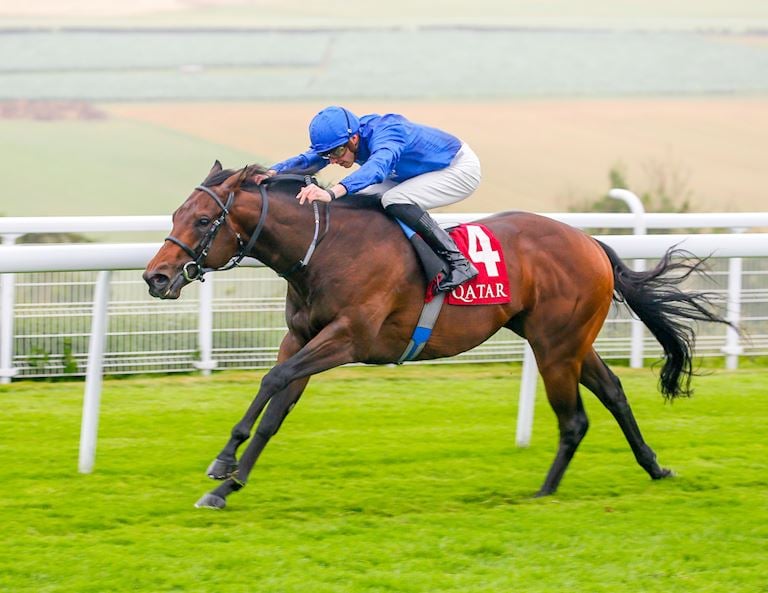 The equine squad itself, though, does rotate. New 'signings' come in, and veterans move on. It was always going to be difficult to emulate 2018's annus mirabilis which included a first Investec Derby for the Sheikh in the famous blue colours with Masar – the equivalent of the Premier and Champions' League rolled into one.
But this season has not turned out badly for Appleby and Godolphin in general.
In June Blue Point went out on a high with two sprint group ones in the King Stand Stakes and the Diamond Jubilee Stakes at Royal Ascot within the space of five days. And in Pinatubo another likely superstar has been unearthed.
Both are the progeny of Sharmardal, who stands at Godolphin's Darley stud and who has also fathered fellow top class colts in Earthlight and Victor Ludorum. While Blue Point was retired in the summer in a blaze of glory, Pinatubo is ready to erupt into racing's consciousness and ensure 2020 is another flier.
The two year old out, of the mare Lava Flow, is named after an active volcano in the Philippines. He is the highest rated juvenile in a quarter of a century and unbeaten in four starts.
On Saturday he is set to enhance his reputation in the Darley Dewhurst Stakes. Pinatubo sizzled when thumping Armory by nine lengths in the Vincent O'Brien National Stakes last time out, earning a rating of 128, higher than Frankel achieved at the same stage of his career.
"He is definitely the best two-year-old I have had," says Appleby. "We have seen many a good horse in the morning but he has been one of those special horses who produces it in the afternoon as well.
"I have never had an unbeaten two year old to date at Group One level. What this fella has done winning at Epsom, Ascot, Goodwood and the Curragh, is exceptional. His preparation (for Newmarket) has gone well. He is the horse they all have to beat.
"I'd say he has frightened off most of the opposition but, from what we have seen at the races, he has been very impressive and improved with each run.
"It was great to see Earthlight win the Middle Park and he's there as one of the potential champion two-year-olds but if Pinatubo wins the Dewhurst I think that [title] is signed, sealed and delivered."
Appleby was born in Plymouth and moved to Newmarket when he was 16 to enrol at the British Racing School in a failed attempt to become a jockey. Being too heavy he started to think about training and joined Susan Piggott when Lester was still riding. It was the start of an education.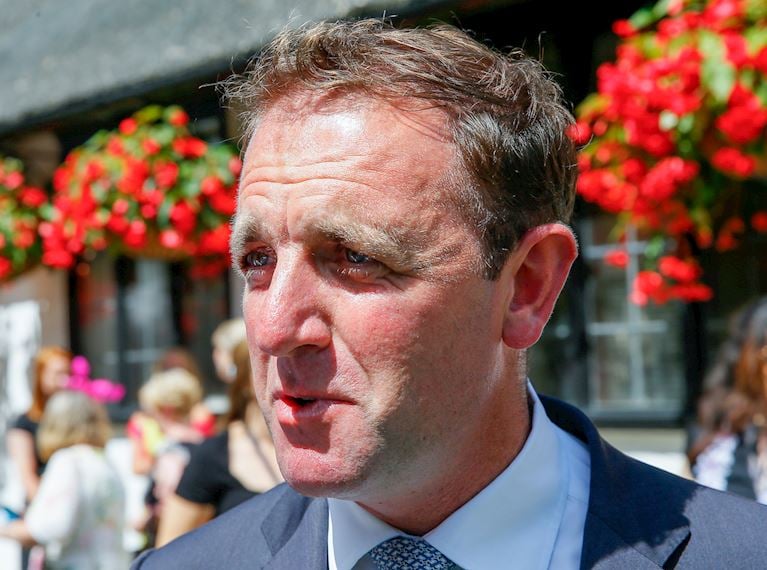 "I have been very lucky in my career in that I have been surrounded by great people with a lot of influence knowledge and experience," he continues. "I used to sit there with Barney Curley and Lester watching races. Listening to them talk about what should have happened what could have happened, so you gain an appreciation of how to read a race."
He then moved to join David Loder, initially as travelling head lad. "Again it was like being part of the family. You could not help but absorb everything."
From there it was to Saeed bin Suroor's as assistant, before then being seconded to the soon to be disgraced Mahmood Al Zarooni, before landing the number one role in a move that was reminiscent of Liverpool's famous boot room. The transition from back room to front of house was seamless.
"I never felt pressure because it was second nature. I had been part of it for so long. I was au fait with it all. We all felt comfortable, it was all natural which allowed us to get on with our jobs."
Reflecting on 2019 Appleby says Masar and Blue Point were big holes to fill. "But we are very pleased with the two year olds and look forward to next year. And back it up with some nice yearlings for next year."
To replenish the stock, Sheikh Mohammed has been active at Tattersalls this week with the on course rivalry with Coolmore spilling over into sales ring. On Tuesday night he outbid the Irish operation when spending £3.78 m on a Dubawi half-brother to Barney Roy.
"His Highness has been a great supporter of this game for many years and he is really enjoying it," Appleby explains. "That was there to see at Ascot (with Blue Point). It fuels the enthusiasm for the future."
At a time of uncertainty on so many fronts that must be good for the sport and for Appleby who is set to rule the roost for many more years to come.