THE REAL SECRETS OF ENABLE'S SUCCESS, BY THE JOCKEY WHO RODE HER TO HER FIRST EVER VICTORY
by Mark Souster
Few horses in recent years have captured the imagination of the British public quite like Enable. The Queen of the Turf, as she is described by Frankie Dettori, her jockey, is quite simply a superstar.
This Sunday she returns to ParisLongchamp seeking an historic third successive Prix de L'Arc de Triomphe. Success would guarantee her legacy as one of the best of all time.
But, while Dettori would be the one basking in the glory of one of the greatest horses in his – or any – lifetime, there is one man who experienced victory on Enable even before the sport's most recognisable jockey.
Rab Havlin, an important cog in John Gosden's relentless training machine, sat aboard Enable on her first ever racecourse outing, steering her to victory as an unheralded two year old on the all-weather at Newcastle in 2016. He has regularly ridden her out since.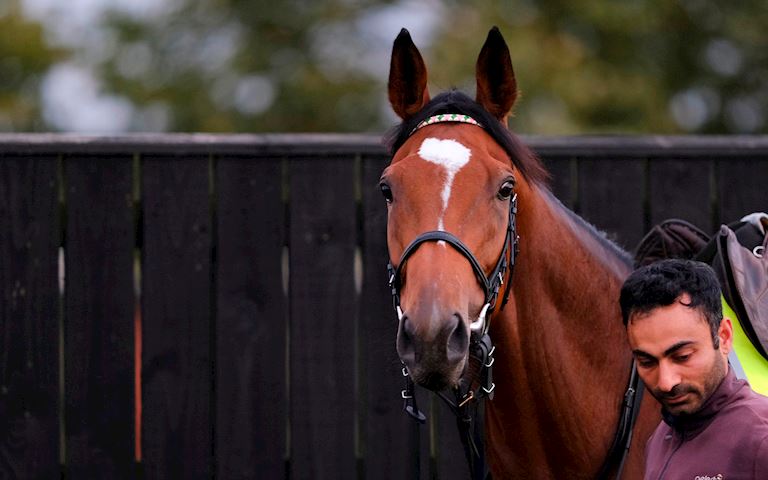 "She feels like a jet's starting up when it's taking off," says Havlin who has worked at Clarehaven for the best part of 20 years. "She lobs along in behind the leader just out of the bridle. But she knows that when you pull her out, it is time to go and you just sit back in your seat. It is incredible.
"She is unbelievably intelligent, one of the most intelligent horses I have ridden in my life," he continues. "She learns things pretty quickly. She certainly learned how to win pretty quickly. No matter what she works with, once she puts her head in front you will never get back past her.
"She just has a presence about her. You actually feel pretty special when you are riding her. Everybody picks her out and points to her out on the Heath (at Newmarket). Never a day goes past when someone isn't wanting to take her picture. She is a lovely filly to rise. You feel as if you are sitting on something special."
Newcastle seems like a lifetime ago. As a three year old she followed up her debut by finishing third at Newbury. On that day William Buick was handed the ride, with Dettori on the race winner, Shutter Speed, also trained by Gosden.
Since then, however, she has reeled off a mind boggling sequence of 12 victories – Dettori on her back for each and every one. In that time – according to Havlin, who has been keeping count - she has beaten 43 individual Group One winners.
"She has not been winning easy races," he adds. "She has been beating the best of the best."
So, in 2016, did Havlin have an inkling that Enable was destined for racing superstardom? "It would be great if we could see into the future," he laughs.
"She still had her frame to fill at that point. She is a big filly. Look at the size of her now. She was half the size back then physique wise. And she looked like one that would do better in time.
"She struck me as a very laid-back filly. A filly for 'next year' who would stay a bit further."
Havlin is a jockey with a fine reputation for helping to develop budding equine stars, so is qualified and entitled to know a thing or two about the secrets behind Enable's progression since her first race at Newcastle.
"Looking back she had done three or four pieces of work on the all-weather before that race," he explains. "But on that surface she just goes through the motions and I think she was bored up there."
This time last year, there was a question mark as to whether Enable would make it to the Arc. Due to a temperature she was only 85% fit, but that was still good enough to see off the late Sea of Class, if only just.
"It was an unbelievable training performance to get her there. She had one hiccup after another. To go and win an Arc at only 85 % fit speaks volumes, for her, her trainer and her jockey."
This year, Havlin explains, things have gone far more smoothly. "We took her on the grass on Monday morning and she put in a very nice piece of work. She led me and I was going to join her at the five and a half but by the five I couldn't keep up with her any more. She was gone! She is very happy in herself."
Dettori has said he loves Enable like no other horse he has ridden. "I can understand that," Havlin continues. "He is really soft on her and he had every right to be. Horses like that come along once in a lifetime.
"Frankie has done everything but he has found himself a real superstar. He will probably be remembered more form his association with her than any other horse in his career."
This Sunday Havlin is heading to Paris. He wants to be there to see if Enable can make history.
"Because I have had a lot to do with her I wanted to be there," he adds. "There is no such thing as a certainty but we are getting her there in very good nick. I am sure I will be nervous I just hope she can get it done.
"I don't think we will see her like again for a long, long time. Racing needs stars like her. There's been a tear in my eye the last two Arcs she has won. I am sure there will be plenty of tears of joy if she wins again.
"When I retire I will be looking back at days like these. I have been on her, ridden plenty of work on her, won on her on the track. The Enable story will always have my name next to it whether it is small or large at least I have been associated with her and it will one of the highlights of my life."