BLINK AND YOU'LL MISS EM! STEWARD'S CUP WINNER LOOKING TO GIVE CHARLIE A FIRST HAYDOCK SPRINT CUP
By Mark Souster
Imagine having the equine equivalent of Usain Bolt, the fastest man of all time, in your yard. And before that Carl Lewis.
Well, Charlie Hills does and has had. Battaash is the best sprinter in the world, obliterating the opposition in the Nunthorpe Stakes. And only a couple of years ago Muhaarar was one of the dominant forces over short distances and the champion sprinter of 2015.
These are big names that turn heads and drop jaws. Battaash approached 50 mph in the second furlong of the King George at Goodwood last month. For those who enjoy a comparision that's significantly quicker than the 27.8mph record of Bolt at the World Championships in 2009.
"It's brilliant to have a horse like Battaash. It creates a great vibe around the yard. Everyone wants to come to see him. Hopefully we can keep him for a few more years. I've never seen him so well, absolutely bucking and kicking. He's in great form."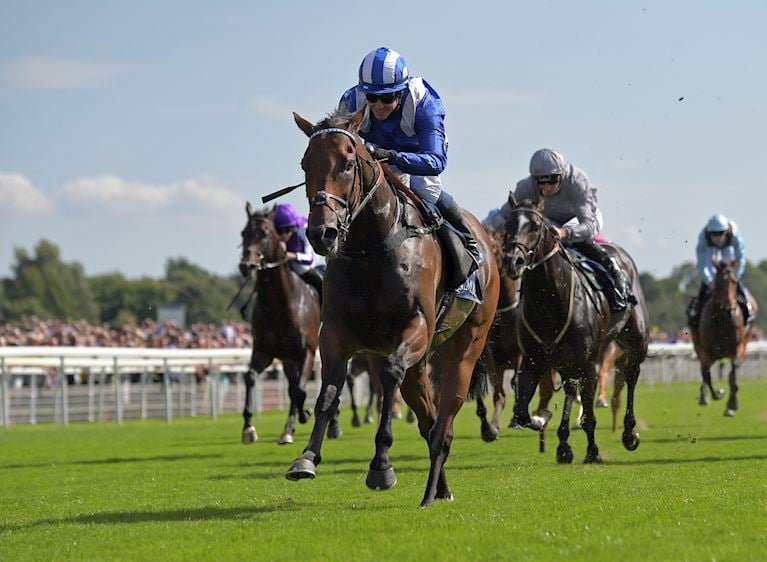 The fast and furious sprinting division over the last few seasons has provided some remarkable horses and memorable races which have and captured the imagination and filled plenty of column inches.
Lady Aurelia, Marsha, Blue Point and Caravaggio, to name but a few, have made the sport's top sprint races must-watch events.
This Saturday many of the best of the current crop and their elder rivals will contest the Group One Haydock Sprint Cup. This renewal boasts a quality field, with names to get the pulse racing.
Hills has a reputation for producing speed machines and this weekend he throws Khaadem into the mix in a race twice won by his father, Barry, whose exploits helped to establish the family dynasty. The closest Hills himself has come is second with Strath Burn in 2015.
The comfortable winner of the Steward's Cup is pitched against 13 rivals, among them Ten Sovereigns and Advertise, both Group One winners. "He looks like he's improving and that's mentally too – he's brilliant now, not a problem at all," he says of a horse who once had a reputation for being a touch skittish.
"We've always thought a lot of Khaadem and he hasn't got many miles on the clock, but I think he's ready for race like this now and he's probably the best chance I've had.
"He is in great nick. He has obviously got to step up to the next level but I think he is ready for it. The more racing he has the more it's made a man of him."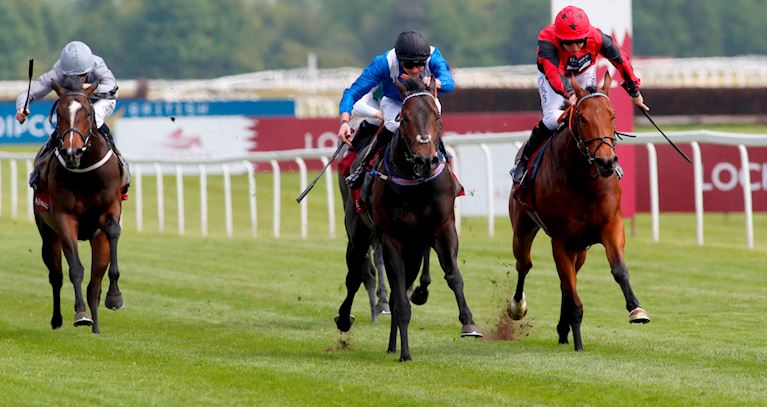 Hills puts the recent prominence of sprinting down to the advent of the Commonwealth Cup at Royal Ascot. It was inaugurated only in 2015. Open only to three year olds it has allowed them their own time and space to develop and encouraged thereafter their owners to keep them in training. "It has given those three year olds a chance at learning how to sprint," he explains.
Hills though is reluctant to be seen only through the blurred prism of speed. As he points out, he has a couple of decent milers not least in Phoenix of Spain winner of the Irish 2000 Guineas.
"I like anything – any good horses! It's just the way it has been the past few years. We've been lucky with the sprinters."
Hills is one of five sons of a racing dynasty – the family is close particularly since the sad death of John from cancer in 2014. George, his full brother, is a bloodstock insurance agent in America, while twins Richard and Michael, his half-brothers, are forging post-riding careers in the sport. "They have been brilliant and so supportive," Hills adds.
Of his own career he insists there was never any doubt which direction he would go in. "It was inevitable I would end up training. It is a way of life and I have two sons. All they want to do is read the papers to find out what horses we are running. I was exactly the same.
"We haven't changed an awful lot from how he (my father) did things. We look to keep the horses fresh and not try and overwork them. He comes in the morning, watches the horses if he sees something not quite right he will tell you!"
If Khaadem wins on Saturday then Barry will no doubt allow himself a smile of acknowledgement at how quickly his son is proving to be a chip off the old block.