HOW CUE CARD, JUMP RACING'S "GENTLEMAN", IS ADAPTING TO A NEW LIFE AND CAREER IN THE SLOW LANE
by Mark Souster
He was one of the most popular steeplechasers of the past decade.
A real fans' favourite, Cue Card won 16 races during a memorable career including nine at Grade One level. He won Haydock Park's Betfair Chase three times, the King George VI Chase at Kempton Park and twice at the Cheltenham Festival.
Famously he came agonisingly close to emulating the late, great Kauto Star and winning The Jockey Club Chase Triple Crown in 2016 and its £1 million bonus, only to fall while in contention in the third and final race, the Cheltenham Gold Cup.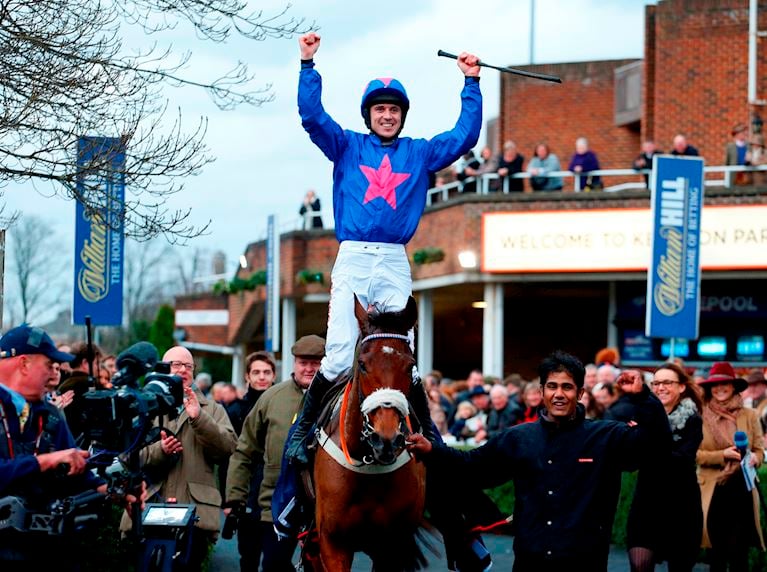 After winning on his debut at Fontwell Park in 2010 he went on to secure more than £1.4 million in prize money and his determination on the track captured the imagination of the public in a way that few horses have been able to. He wore his heart on his sleeve and loved to bowl along in races, jumping impeccably.
Cue Card also helped to transform the fortunes of trainer Colin Tizzard. So when the 13-year-old was retired from racing in April of last year Jump racing fanatics could be forgiven for shedding a tear at the prospect of never seeing him in public again.
Twelve months later the veteran owned by Jean Bishop left the Tizzard yard in Dorset for the final time. It was an emotional departure for all concerned.
However, the end of one era has signalled the beginning of a new career, as a show horse as part of the popular and successful Retraining of Racehorses programme.
On the basis that you can't keep a good man down, Cue Card is slowly learning the ropes at the Essex yard of show producer Katie Jerram and her husband Chris Hunnable.
There they are teaching him the rudiments of a new discipline. It has taken a while for him to understand that he cannot take a hold, nor is he expected to gallop off in a race.
Now it is about working within the confines of a show arena and the different demands that entails, which is not dissimilar to dressage. It is about trotting and other subtleties.
However, it is nothing to do with show jumping. Showing is about beauty, correctness, manners and a way of going. This weekend he will be appearing at the RoR Show final at the Aintree International Equestrian Centre in the next stage of his development.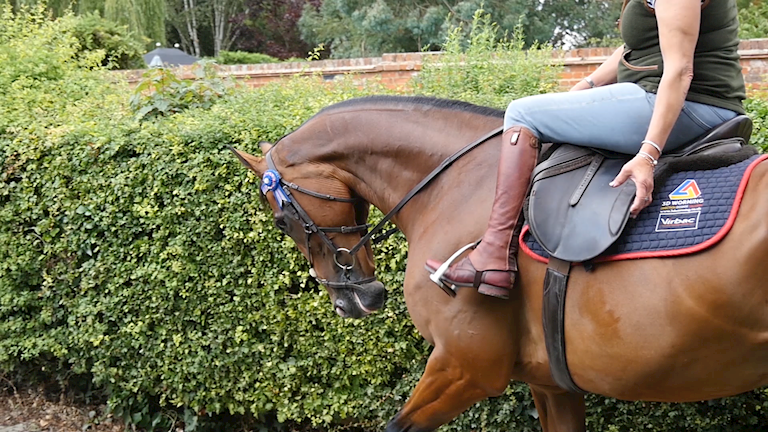 He will not be competing; merely exhibiting and parading. That is expected to happen next year at the Royal Windsor Show. This is another stage in the familiarisation process.
Early next month he will be at Burley when he will make his debut under saddle in a sponsored ride around the cross country course.
It has been a big change for him but one he is adapting to with relish and aplomb. "Jean (Bishop – his owner) was keen for him to do something else after his racing career, rather than just being turned out in a field," Jerram said. "I was very flattered to be asked to take on such an amazing horse.
"It was a huge surprise. I felt very sorry for the Tizzards having to say goodbye to him. On Facebook that morning when I saw everybody saying goodbye, the tears … I felt like I was stealing him from them!
"When he arrived the lorry dropped the ramp and down came Cue Card. He is just the most lovely horse. He has been very relaxed since day one. Everyone loves him and I can understand why he was the people's favourite. He is the most charming horse to retrain and we are very lucky to have him.
"It is so lovely that Jean Bishop comes to most shows and she comes to see him at home. She is really enjoying seeing the horse in his next career. He is enjoying a lovely life and he deserves it. He is just the most charming man.
"He is walking trotting cantering changing the rein and no taking a hold and starting to muscle up on his top line which we need for the show ring. We have had to teach him that we do things a different way. At the moment he will walk, trot round, stand up for conformation, learn to stand in line, next year we add the ridden element.
"He is a very quiet very easy horse. He has tremendous stamina and speed. When we ride him we are having to say 'Woah! Woah!' You only need a slow canter. It is a big change for an old boy. But he enjoys it."
The RoR charity was established to ensure the welfare of horses who have retired from racing. It promotes the versatility and adaptability of racehorses for other equestrian activities.
"It is important so people can see what can be made of these beautiful horses," Jerram continues. "They all need a second life. RoR is finding lives for these horses which in the past years ago never happened.
"There was an awful lot of wastage which doesn't happen now. That is really important. We are finding homes for race horses. It doesn't matter whether they were good or bad. The most important thing is their welfare. But in Cue Card we have the best.
"He is a wonderful horse with the kindest attitude towards his work. You can see why he was a winner. He is a bold, intelligent horse who is enjoying his new life. It is what he deserves."