MEET FAYE MCMANOMAN – THE FEMALE JOCKEY WITH BIG AMBITIONS (AND A PET DOG IN HER HANDBAG)
by Mark Souster
On Monday 5th August Carlisle Racecourse stages a unique raceday in the sport's calendar. Ladies Night is the only fixture in the UK at which every jockey in every race is female.
And if Flat racing is looking for the equivalent of Jump racing's passionate, eloquent and infectiously enthusiastic ambassador Bryony Frost, then Faye McManoman might just be the ideal candidate.
Faye is a pint-sized bundle of irrespressible exuberance who has overcome countless challenges to become a sort of poster girl of northern racing, with ambitions for a long and successful career as a jockey. Oh and we must not forget her biggest cheerleader Belle, her three-year-old chihuahua (more on her later).
Describing herself as a glass-half-full kind of 26-year-old, Faye has been with trainer Nigel Tinkler for the past two and a half years.
This season she has ridden 11 winners and looks forward to a full book of rides at the Ladies Night at Carlisle on Monday, a notable day in racing's calendar and one which showcases the very best of the sport's female talent.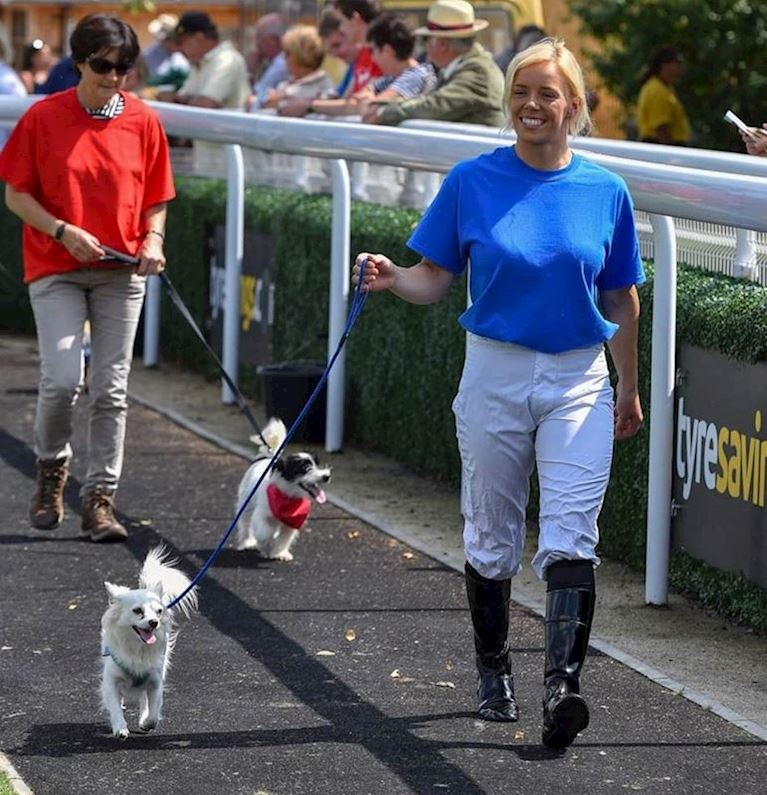 Carlisle itself is the track closest to her family home at Longridge in Lancashire and it has been a lucky place for her. "My aim is to ride a double, something I haven't had," Faye says. "I haven't had one yet and to do it at Carlisle would be brilliant.
"It is quite a quirky track. I won last year in the Carlisle feature race. I think I've had six or seven winners there. I am very confident there and feel on my home ground."
Becoming a jockey is all Faye has ever wanted. She made that clear in her end of year book at primary school. Her mother had been a manager of a bookmakers and brought the racing papers back home every day.
"I would cut out the pictures of the horses and stick them in a scrap book. So I'd always held that dream.
"When I was younger I looked up to Hayley Turner. But when I got out there it was about making a name for myself. I want to be the female jockey the next generation look up to."
After leaving school at 16 and after a couple of years of waitressing and tending bars, she got her break aged 19.
"Richard Ford, who trains at Garstang, was looking for staff," Faye continues. "I just turned up one day and told him, 'I can ride a horse, I am small enough, and I have got a lot of bottle'. He said, 'Right, get on.' He watched me and said I'd got the job!"
She got her license when she joined Tinkler and after several years work-riding around the country.
"A lot of hard work, blood sweat and tears have gone into it, but I got there in the end," she says. "I've been kicked in the face, been knocked out a few times and when you're lying in hospital you do wonder if it is all worth it.
"But when you are at your lowest, you have got to keep looking up. It's definitely been worthwhile. I rode my first winner on my seventh ride. That meant an awful lot to me."
Faye might gloss over that kick to the face but it was severe. When pushed she continues: "I lost a few teeth, my lip was split open, had 12 stitches in my mouth because the top of my mouth caved in, nine stitches in my chin."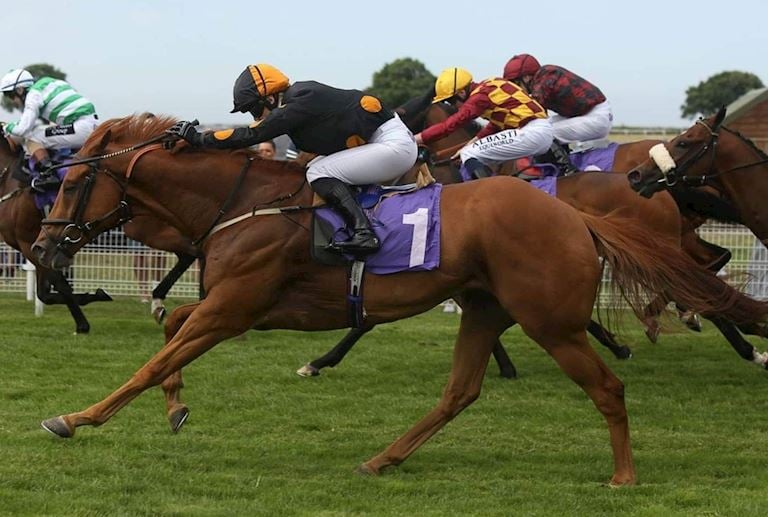 Among those she owes most in the sport are the Tinklers - Nigel and his wife Kim and the team at Malton.
On Tuesday she rode Tinkler's Ginger Jam to victory at Beverley and she said: "The Tinklers have been so supportive of me they just want the best for me. They are hard on me because they want me to be the best I can. They have high standards. And they like to keep it that way."
Being an eternal optimist has helped her through some dark times, she explains. "In racing you can get low if you haven't had a winner for a while. Because I have such great support it does keep you going," she adds admitting too that she is a bit of an adrenaline junkie.
"As much as it is a physical sport it is also mental. It preys on your mind a lot. When you are having a rough time you need to keep yourself upbeat. In racing a lot of people talk about depression. So it is important to keep yourself upbeat."
The aforementioned Belle plays a big part in that. "She comes to every course with me. I put her in my handbag and she just sits there and waits for me.
"I have had her since she was seven weeks old. She fits in the handbag perfectly. It was like she was born to be there. She is an absolute dream."
Faye McManoman might just be one of the best kept secrets in racing. "Put a camera in front of me and I love it!" she says. Maybe a career in TV beckons.