WHY WINNING THE DARLEY JULY CUP WAS THE TURNING POINT FOR TOP JOCKEY HAYLEY
by Mark Souster
The Darley July Cup at Newmarket is one of the most valuable and prestigious sprint races in the world; its winner often regarded as among the best sprinters in Europe.
A roll call of past winners highlights its significance in the sport. Chief Singer, Royal Academy and Stravinksy to name just a few who have secured the six furlong epic. Another is Dream Ahead, who in 2011 provided Hayley Turner with her most high profile victory and her first Group One success.
It was a landmark victory for the female jockey, who over the years has blazed a trail for her sex. She dominates the all time list of most successful female Flat jockeys. In 2008 she became the first to ride 100 winners in a calendar year.
Dream Ahead was a fiver time Group One winner and at one time rated on a level with Frankel. "Dream Ahead was very significant for me," Turner said.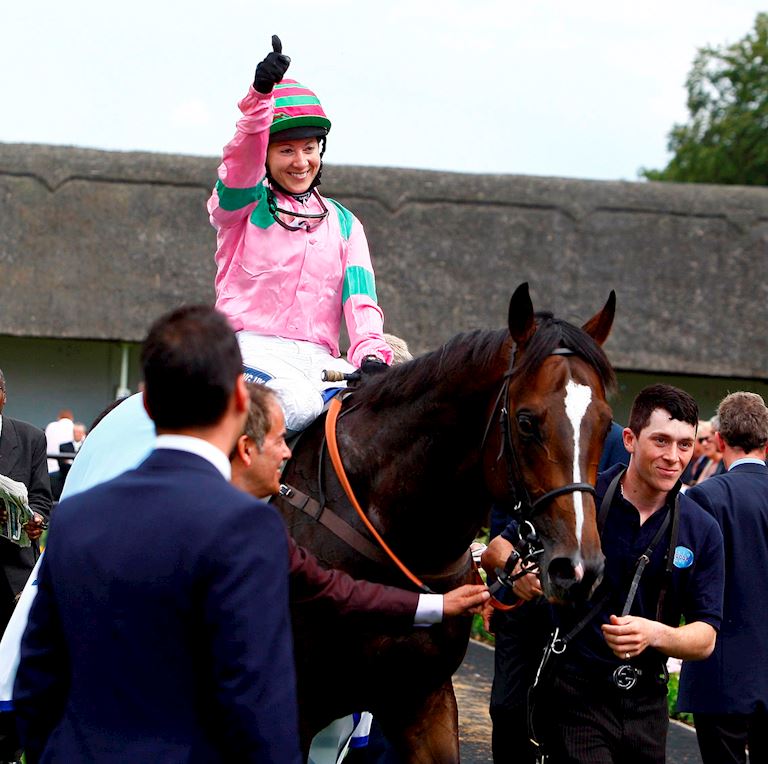 "It was making history – nobody can ever take that away from me. He was a great horse, as you can see from all those Group Ones. I got the ride because I was absolutely flying at the time and William Buick and Jamie Spencer were unavailable."
Turner fronted The Moet & Chandon July Festival campaign this summer, launching horseracing's first ever Milliners' Award, rewarding the racegoer with the best headpiece as well as the Best Dressed Lady on day one of the three day festival at the 'Home of Horseracing'.
Since winning the July Cup eight years ago Turner's fortunes on the track have ebbed and flowed. She retired at the end of 2015, citing the demands of travelling and joined the ITV racing team when the broadcaster won the rights to cover the sport at the beginning of 2017.
She also took time out to qualify as a personal training instructor. She then rode in the Shergar Cup in 2016 and was awarded the OBE for services to racing the same year.
In 2017 she took part in the inaugural Women Jockeys World Championship in Sweden backed by Benny Andersson, of Abba fame.
Turner returned full time, initially to ride in France where female jockeys received a 2.2 kg weight allowance. In December 2017 she was also suspended for three months for betting on horses whilst a licensed jockey. "It is a bitter pill to swallow," Turner said at the time.
This season she has shown that at the age of 36 she still has the ability and drive. In June few need reminding that she became only the second female jockey after Gay Kelleway in 1987 to win at Royal Ascot when Thanks Be won the Sandringham Stakes for Charlie Fellowes. She beat the Queen's horse Magnetic Charm.
"The girls' changing rooms are full now," Turner said after the race. "It was only a matter of time. It is certainly overdue and the girls have been doing so well since I first started riding to the standard they are now.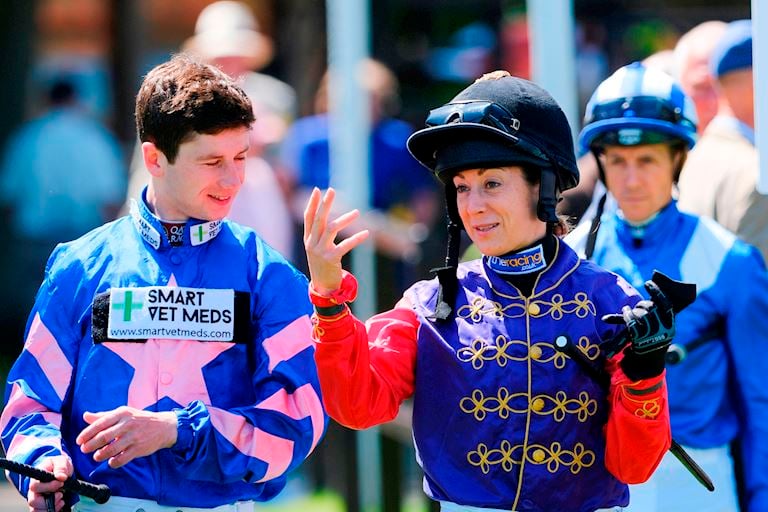 "Everyone is like, 'why are no girls winning?', but numbers are rising and it will happen in time. It does mean a lot and the whole girl thing, it is just going to get better and better for them.
"Nothing is going to happen overnight, but if you look at this in 10 years' time I bet a lot more girls have done it. It will become a common thing and the media won't care that much, as it will become normal."
Turner memorably tweeted that if anyone wanted to find her after her victory she was on Cloud Nine.
"I have ridden all over the world but there is no buzz like this. It's unique, there is so much history – just to be a part of that. I feel bad for Her Majesty, but I am sure she understood."