AS EQUINE ARTISTRY GOES THERE'S FEW BETTER RESPECTED ON THE PLANET...
by Mark Souster
Capturing the majesty and movement of a horse in a painting is an art form in the truest sense. In a career lasting almost half a century Adriana Zaefferrer has proved to be a master of the subject and is recognised around the world as one of its leading practitioners.
The Argentinian, a passionate Anglophile, has painted for the Queen, and most of the leading trainers and owners since the early 1970s. In that time she has depicted all the greats of the Turf, among them Mill Reef, Nijinsky, Grundy, Brigadier Gerrard, the Minstrel and Sadler's Wells as well as Northern Dancer, the hugely influential American stallion. She can count the sport's leading families - among them the Baldings and the Hastings Bass, the Cecils, the Cowells and the Sangsters - as friends.
Such is her lover affair with England that she spends several months a year here during the summer. "I have so many friends here. I feel really at home in England. I like the people the place, how they are," says Zaefferrer who is a guest of Andrew and Annalisa Balding at Kingsclere.
"When I first came to England I met Priscilla Hastings (Andrew Balding's late maternal grandmother) and William Huntingdon and they became my family. Priscilla staged my first exhibition in Kingsclere.
"Originally I wanted to be a vet. But I wanted to get near animals in a more romantic way. I started with pencil, charcoal then colour pencil then oils, then sculpture. I tried everything.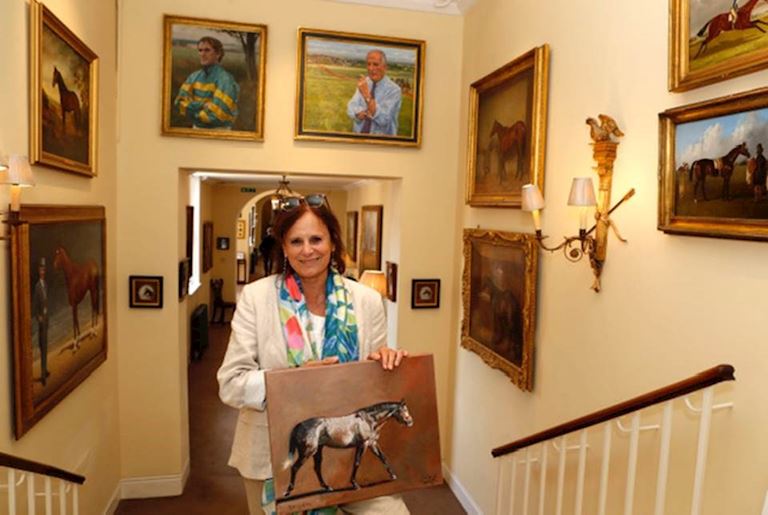 "A lot of people around me said I had talent. I was naturally drawn to paint everything I saw. I was very young and saw the local indigenous people (near the Andes). There were no cars. Everything was on horseback. I ended up riding with them. I went round the Andes for days. I was a teenager. I was very wild! They called me wild child and a rebel."
She arrived here via a circuitous route. Her parents both talented artists themselves, sent her to Switzerland where her aunt was an ambassador. She spent several months there and was due to return home when she was advised not to go before she had visited what the ambassador called the most extraordinary country in Europe.
"That was England." An introduction was effected to the Argentina Ambassador to London who was a keen horseman. Within no time she was in Newmarket.
Zaefferrer's first commission was to paint the stallion Aureole for the Queen. Aureole had been second to Pinza in Coronation year 1953. It was the start of a professional relationship which lasts to this day. She has painted one of Her Majesty's corgis named Heather and is currently working on another equine commission for her. "It is wonderful to work for her," she says.
What is particularly remarkable about Zaefferer is that she is entirely self-taught having eschewed formal training to develop and hone her nascent talent and gift by trial and error. She has gone on to become an accomplished sculptor too, one who casts in bronze. "I just wanted to do it myself through practise and observation."
How difficult is it to capture the movement, muscle, physiology and physique of an individual horse? "It is quite challenging," she continues. "They have so many movements and expressions. You cannot get it wrong. If you get a proportion wrong an eye out of place you have to start again. You have to be very accurate. You can play around with a landscape but not with a horse. I go to see the horse first, get a feel for the animal, his or her look to get the right impression, get all its details, their presence, their colouring."
She has lost count as to how many horses she has painted. Suffice to say it is in the many hundreds. Is there one horse she would like to paint? "Yes, Enable! I have just fallen in love with her. She is magnificent. I would love to paint her. " And jockeys?
"I have painted a few in Argentina but not in England. I would love to do Frankie (Dettori). He is an incredible character and has such a lovely smile. I love him."