Have you dreamt of being a racehorse owner? Here's your chance! Become a member of our two year horseracing syndicate today, with membership to Cheltenham, Exeter, Warwick and Wincanton Racecourse. Find out more here.
I am pleased to introduce part one of our Syndicate Tales, including news and updates on our Syndicate horses, behind-the-scenes information, and any Membership news. Let me introduce myself, I am Hannah and as well as Business Development Executive for Exeter Racecourse, I look after all things for the South West Syndicate.
On Friday 19 June, myself, Matthew (Regional Head of Marketing) and Simon Claisse (Cheltenham Racecourse's Clerk of the Course) went to meet our newest recruit: DOCPICKEDME, trained at Harry Whittington's yard in Lambourn.
The rain was hammering down, my satnav sent me around every dirt track in Lambourn and I'm pretty jaded from the drive. Saying that, there is nothing like the sight of your boss emerging from his now mud-splattered car in entirely inappropriate attire for a yard visit to wipe away any resemblance of 'lockdown blues'.
When I say Lambourn, we were just outside the town itself but it felt like we were the only people in the whole of Oxfordshire on this particular morning.
We were of course at Hill Barn Stables, home to Harry Whittington Racing; a now Grade One and Cheltenham Festival winning trainer who is set to improve on these successes with his young and ambitious team.
As socially distanced and cautious our visit was, it was very much business as usual for Harry and his team. This was shown by the condition of his horses, cleanliness on the yard and attention to detail from the trainer. As we stood and watched a string of horses do their 'two canters' on the 2 ½ round gallop, the Nicky Henderson graduate talked us through his weekly routine, the facilities at the yard itself and the proximity of the Lambourn training grounds which he has access to.
What struck and inspired me the most was the strong emphasis on the horses' welfare to Harry's training regime. It is clear he has continuously upgraded and tweaked his regime over the past eight years and not only the physical, but the mental wellbeing of his horses reigns supreme in the justification of all of these expenditures.
Now for the real reason we are here (thanks for your patience). To get a closer look at our new purchase, Docpickedme, also known as Derek. He's everything Harry promised he would be: chestnut, a gelding and big. In fact, for a four year old, very big. True to his word, he is athletic too and we soon had to be in order to dodge an excitable lunge from Derek. Already an Irish point to point winner, it wasn't hard to see why Harry was so fond of this chap and indeed, we were all soon taken with him. He looks every bit the future hurdler which will be the plan for the coming 2020-21 season.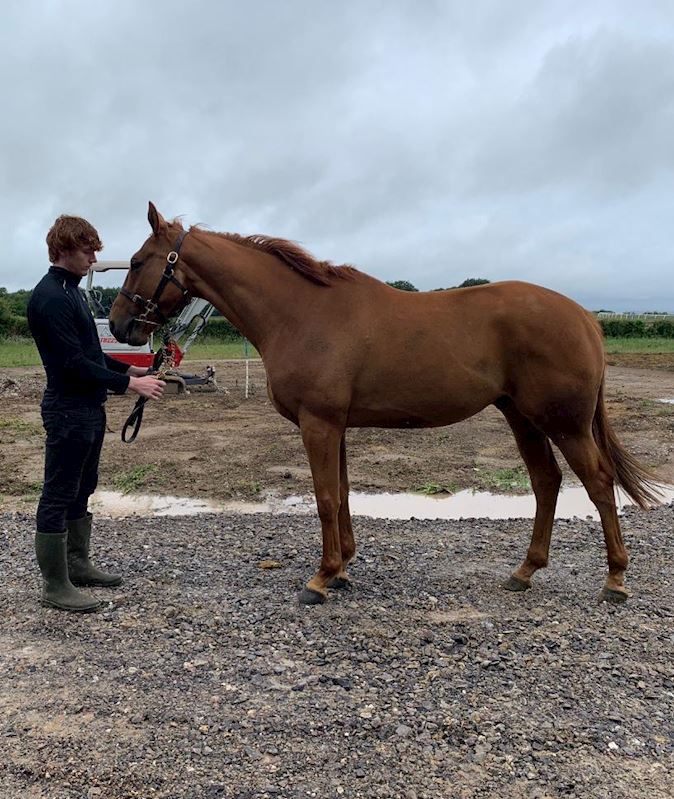 To find out more about our South West Syndicate, click here. Membership is available to buy online today, or call Hannah on 07790 356820 to enquire.