Welcome to part two of our Syndicate Tales, including news and updates on our Syndicate horses, behind-the-scenes information, and any Membership news. If you missed part one, read it here.
Let me introduce myself, I am Hannah and as well as Business Development Executive for Exeter Racecourse, I look after all things for the Cheltenham and South West Syndicate. If you've dreamt of being a racehorse owner, here is your chance! Find out more here.
Well, I for one am relieved to see a horse jumping something return to our screens. Don't get me wrong, the Flat Classics and Group 1 races are thrilling to watch and each race tells its own story, not least the shock Derby result last weekend, but for me, there's just nothing like a bit of mud flying, birch bristling and the dulcet tones of Angus McNae to lift your spirits in week 15 of lockdown. No, really..! And with the first horse to stick its head in front being a Nicholls/Cobden/McManus, it was like we'd never been away from it all.
Speaking of things getting moving, we had our very first 'Zoom Stable' on Wednesday which went as well as any conference call with 100-odd people could really! We heard from our new trainer into the fold Harry Whittington and his plans for Derek (Docpickedme) which all sounds very excited and has really given us all something to look forward to for the coming season. We also had some familiar faces to our screens and syndicate TV presenter Lee McKenzie kicked things off and shared how, in her words, she has 'done more presenting from my bedroom than any respectable girl should have' during lock down. Countryfile's Adam Henson's Cotswold Farm is back up and running and he would be delighted to see you so, if you're short of something to do, why not give it a whirl!? Ed Chamberlin was eloquent as ever and gave us the tip of Golden Horde for tomorrow's July Cup at Newmarket….back it if you're feeling brave but, by his own admission, he doesn't have the best strike rate when it comes to tipping winners!!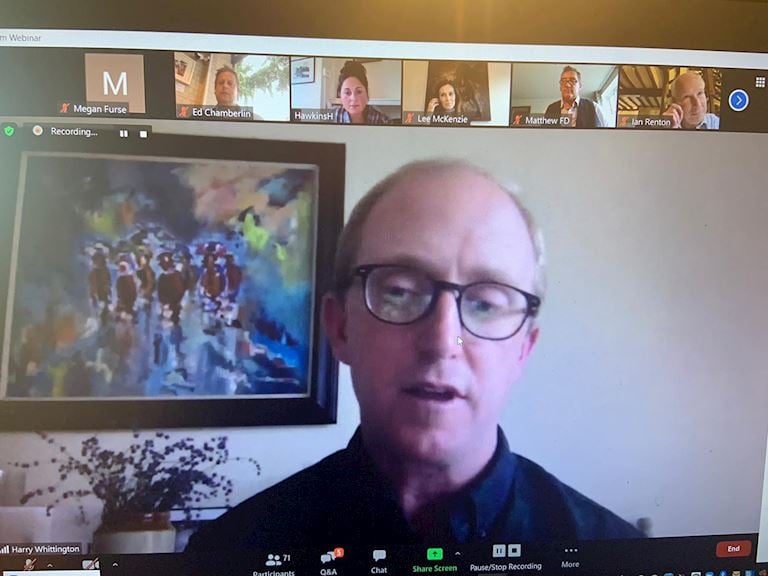 Now, let me take you back. Seventeen weeks to precise. Exactly seventeen weeks ago to the day it was Gold Cup Friday at Cheltenham. Since then we've all been subjected to endless video calls, our step count has either gone through the roof or we've hardly left the sofa for 3 months solid and our gardens/houses/backyards, unlike our own exterior, have never looked so flawless. But let me, or rather let Chris Buckham a Syndicate member, help you cast your mind back to that epic day of sport exactly 17 weeks ago today. Chris, take it away.
'The last day of the Festival is always a bittersweet day for me – knowing that the best racing of the week lies ahead but that at the end of the day it will all be over for another year. And this year, we all sensed it would also be one last huge hurrah before some kind of Covid-19 lockdown was imposed.
Normally, Gold Cup day is the worst traffic day, so what better way to arrive than by elegant steam train to the heart of the racecourse and just a short walk to our excellent Syndicate marquee at the heart of the tented village. As in previous years, the facilities were excellent – a warm welcome, a well-stocked bar and the company of like-minded members to debate the winners for the day.
We all agreed that Gary Moore's Goshen was a certainty for the Triumph Hurdle and courtesy of the Syndicate I was lucky enough to get an exclusive paddock pass, along with 3 other members.
Goshen looked an absolute picture, and we were all confident we'd be back in the paddock after the race to welcome him back to the winner's enclosure. We watched the race from owners and trainers section of the grandstand. While not on the finish line, it is an excellent viewpoint, being closer to the last hurdle and the famous hill.
Of course everyone will recall what happened next; Goshen sauntering into the last hurdle 20 lengths clear ready to win his race, only for Jamie Moore to inexplicably perform a Frankie Dettori flying dismount and unseat in front of 85,000 stunned onlookers.
So it was back to the paddock to welcome home the surprise winner before returning to the Marquee and the anticipation of the Gold Cup to come. The location is ideal – a quick walk to the pre-parade ring to see the contenders and then on to member's steppings to watch Al Boum Photo compete a memorable double. Great memories to keep us all going and hopefully we can start to look forward to being back in 2021'.
Here, here, well said Chris.
To find out more about our Cheltenham and South West Syndicate, click here. Membership is available to buy online today, or call Hannah on 07790 356820 to enquire.