Harry Whittington on Saint Calvados, why he never wants a "huge yard" and how he is related to Dick
by Mark Souster
Whereas Dick Whittington found the streets of London paved with gold, his direct descendant the trainer Harry, has discovered that the rolling greed sward of Cheltenham racecourse could belatedly provide the source for his own fame and fortune.
Dick, complete with his cat according to folklore, became the first Lord Mayor of London in the 15th Century, was a friend to Kings and a subject now of the annual Christmas pantomime.
For his part Harry, whose lineage can be traced directly back to Dick, landed his first winner at jump racing HQ on Saturday. In a move not unlike the hit TV show 'Who Do You Think You Are?' Whittington's grandfather, Michael, traced the family back and wrote a book revealing all.
Whether Harry kicks on to the same heights as his famous forebear remains to be seen. But stable star Saint Calvados is setting him up in the right direction.
Under top weight the six year old ridden by Gavin Sheehan landed the Randox Health Handicap Chase and thus provided one of the highlights of Whittington's burgeoning career.
But there was nothing frivolous about the way he did it. What made it extra special was that Harry and his wife Alice's six week old baby daughter Penelope was attending her very first meeting. "It was a brilliant day for all of us," said Whittington, a Grade One-winning trainer and a nascent star of the sport in his own right. "She proved to be a lucky charm!"
Such was the collective delight that Alice was seen running and jumping into Harry's arms. "While my wife was going bonkers, I was more relieved," says Whittington. "I thought Alice was going to break my neck when she jumped on me!
"Victory was sealed with several kisses. We are getting a lot of stick about that from our friends. She's still embarrassed about that! She showed all her passion. It was great for everyone.
"Andrew and Kate Brooks (the owners) have been huge supporters of mine and all the team at home. You are only as good as the team around you. It bodes well for the future - you just need to keep going in the right direction."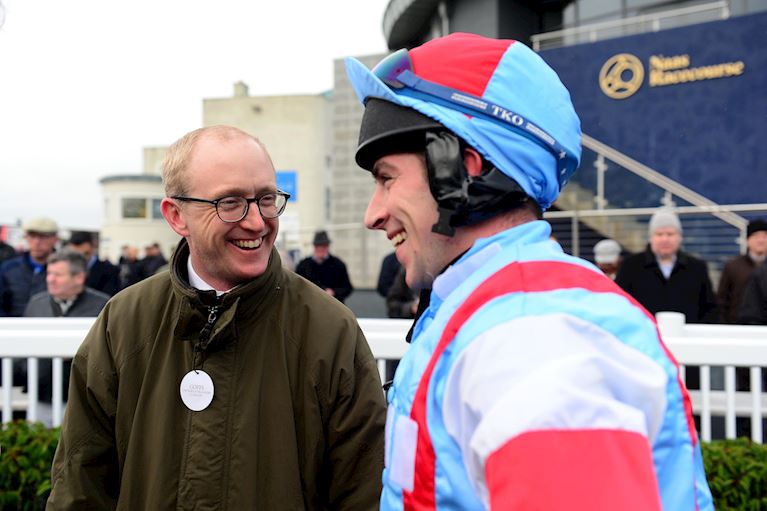 And what of the main man himself – Saint Calvados? Whittington knows he has a star on his hands who on Saturday showed just how good he can be.
"It was a top class performance," beams Whittington. "He is an exceptional horse. The drop in class has got him back on track after a slightly disappointing season last year when he was a very young horse running in some very good races (he was beaten by both Footpad and Altior)."
Despite his forebear Dick Whittington becoming one of the richest men in England many centuries ago, Harry Whittington has built up his yard and his career through sheer grit and his talent as a horseman.
He was born and bred in the yard from where he now operates, which was part of the family farm. His maternal grandfather Colin Nash – a great friend of Captain Tim Forster - used to breed hunter chasers and hunt with hounds.
His uncle, Chris Nash, trained briefly in the early 1990s. So it is inevitable Harry's future would be with horses. "It's in the DNA," he says.
Whittington's route into the sport involved travel and lots of it. On leaving school he headed to Australia where he worked on a couple of big cattle stations in the northern territory, then moved to Victoria and Brisbane to break in wild horses.
On his return to the UK Whittington worked for Malcolm Bastard, again breaking in horses. He progressed to become Bastard's assistant which involved accompanying him to the yearling sales. "I learned a huge amount from him," Whittington continues.
In 2007 he set up my own pre-training business at the farm where his first client was Tom Dascombe, a mate from the local pub.
He explains: "Then I was lucky enough to have some horses for Nicky Henderson that kept me busy for a few years. Tom went off to Cheshire. Nicky said he would send me some more horses. In 2010 he set me up as a satellite yard so horses could run in races.
"It was a great learning curve. I was watching how he produced his horses for the races. I was able to learn so much got the bug for it and started out on my own in 2012 with five horses."
It was tough going but then he had a breakthrough. "I bought a horse called Dubai Kiss for £2,000 and he won a bumper at Newbury first time out at 100-1. It paid a few debts off and got me onto season two. It got me a little bit of notice.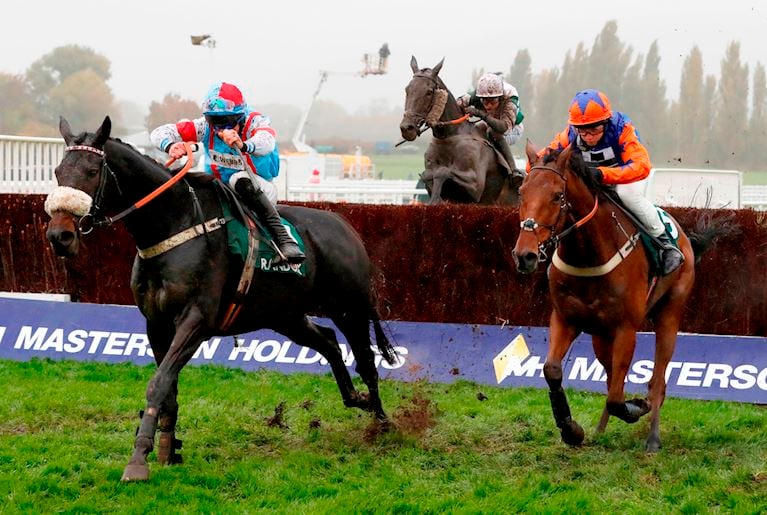 "Through my best man's father I got an order to go to France for €50,000 to buy a horse. That was Arzal who won a Grade One (at Aintree in the Manifesto Novice's Chase). So after only three and a half years and by the end of that summer in 2016 we had 40.
"I am really ambitious. When I set up on my own I remember people at the time saying 'you are mad, you had a good business'. I said to people I am mad anyway so there's no difference!
"It was incredibly stressful and hard work but I'm not shy of hard work. Malcolm (Bastard) was a hard man to work for - a hard master. I never stopped believing. I have a lot of belief in my ability as a horseman. I never want to be a huge yard. I'm happy to be a medium-sized yard training the horses as individuals and be able to always ride out."
His training career has been one of incremental improvement. This year he has had 16 winners, ahead of where he has been before and well ahead in terms of prize money.
Whittington, a 38-year-old sports obsessive with a passion for rugby and Aston Villa, insists there are "no plans yet" for Saint Calvados and the rest of the season.
"We will sit down with Andrew and Kate when they're back from holiday to see where we go next. We are keeping the options open for the moment. This season we want to take each race as it comes and be open minded about what entries he has.
"He could go further, no doubt. But he has a high cruising speed so it is about getting the right balance. He is only six. He will tell us."
Dick Whittington remains a household name centuries later for his adventures with a cat and his story will entertain many a family this Christmas. For Harry it's just about making a name for himself and his yard with horses.