OISIN MURPHY REVEALS WHY "THIS IS JUST THE START" AND THE PLAN HE MADE WITH SHEIKH FAHAD 12 MONTHS AGO
by Mark Souster
There will come a point on Saturday evening, when the dust has settled on QIPCO British Champions Day, when Oisin Murphy allows himself to reflect on a job well done.
At the age of 24, one of the horseracing's most impressively eloquent and personable of ambassadors will be crowned Champion Flat Jockey as the season draws to a close at Ascot on Saturday.
Only when Murphy has the trophy in his grasp will he let the realisation to sink in, acknowledge the applause, feel the pride of his parents and extended family and thank those who helped to make his dream come true.
Then, as with all true champions striving to be even better, it will immediately be back to business.
Oisin Murphy doesn't do brash and arrogant. So his mentality is more of a reassurance to fans of the sport and those connections he rides for than a cocksure warning shot to his rivals. "Be under no illusion I will be looking for my progress to continue," he says. "This, I hope, is just the start."
Murphy's late summer and early autumn surge finally saw off the dogged challenge of Danny Tudhope. While his coronation has been a forgone conclusion for the past few weeks, the receipt of the trophy - to add to that of champion apprentice in 2014 - will conclude a journey which even three years ago seemed unlikely.
But it has always been his aim to improve, season on season, building experience, winners and all important contacts. In 2018 he came close but, despite riding nine Group One winners, Silvestre de Sousa proved too strong in the ultimate numbers game.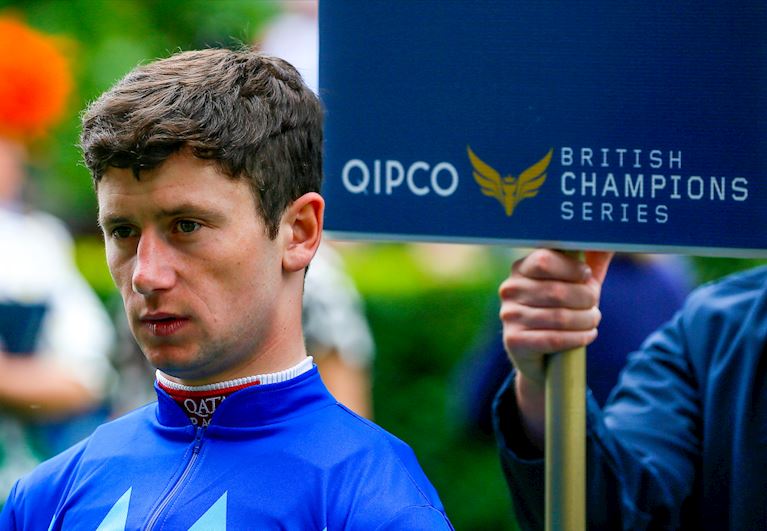 This time last year Murphy sat down with Sheikh Fahad, the head of Qatar Racing. "We discussed how we would try again in 2019," he explains. "We had a plan and it has come off.
"It has been a long year but very fulfilling and I'm thrilled it has all come together. It hasn't sunk in but it will do in time. It will be a mixture of relief and thrill. I am young and ambitious."
Besides Qatar racing, loyal trainers such as Andrew Balding, Archie Watson and Ed Walker have provided a steady stream of winners. "The main stables I have been riding for have been in super form for a long period of time. Without their support I wouldn't have got there."
It has been a relentless pursuit of his goal, requiring discipline, mental strength and true grit. Tens of thousands of miles being driven around the country and also £60,000 spent on flights and helicopters to make sure he did not miss a ride.
Staying fit and out of trouble with the stewards has helped. "I have a really good team behind me that makes dealing with days when you don't have a winner much easier."
Back in Killarney, Murphy's early prowess was on show-jumping ponies. When he decided to give Flat racing his full attention and to finesse his riding style, it was the veteran double Grand National winning jockey Tommy Stack he turned to.
"I would go up to his house at lunchtimes and after evening stables. He spent hours and hours with me on the simulator. It didn't come naturally. I had been jumping ponies and it was a completely different demand to go on an equisizer and push it. He had to show tremendous patience.
"When someone who had been as successful as he has been takes time to offer you advice and send you in the right direction that gives you a confidence boost in itself."
Murphy arrived in England in October 2012 to finish his equine education at the best schooling yard of all, that of Andrew Balding. It was his first trip abroad and led to a few tearful telephone calls home. But the camaraderie of the yard saw him through.
"When I arrived there were a lot of youngsters who've gone on to have good careers: Rob Hornby, Tom Brown, Danny Muscutt and Kieran Shoemark, and Eddie Greatrex. We had an amazing 18 months together until the beginning of 2014."
Winning one of the Classics – The QIPCO 2000 and 1000 Guineas, the Investec Derby, Investec Oaks or the St Leger – obviously remains high on Murphy's 'to-do list'. But he knows the very top races don't just fall into your lap.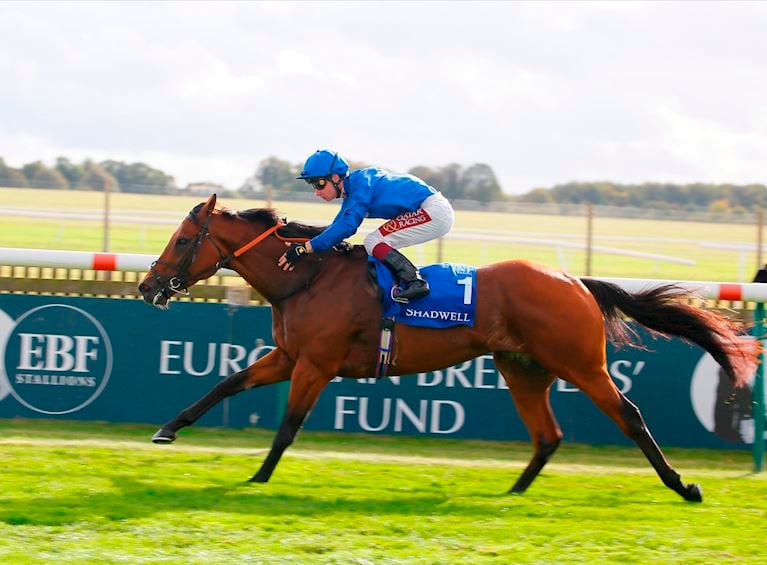 "You are always searching for quality, but top clash horses are really hard to find. You are going to go through periods when you are spoilt for choice and other times when those top horses are more difficult to come by. You just have to keep grafting away.
"People I ride for have some very well-bred horses. Some will be good, some won't. That is the way it is. My work ethic won't change. What will be will be."
On Saturday Murphy will be riding Deidre, the Japanese-owned winner of the Nassau Stakes who takes her place in the Champion Stakes at Ascot. Murphy himself spent two months riding in Japan last winter, so is well qualified to talk about the passion they have for racing.
"The Japanese are really behind the sport," he says. "As a nation they make a huge effort to make you feel welcome. They just love horses. Walk into a shop and they've got shelves of teddies of horses for sale. They are really true fans. It would be wonderful to win for them.
"I rode Deirdre on Tuesday morning. She really is in tremendous shape. It would be great if Ascot switched to the inner track. That will offer much better surface. That would be a really positive step. There are some great entries and a super day and it would be nice to run it in the best ground possible."