Saturday 21 May 2022 - to be rescheduled
Following the reschedule of the shows this week, due to illness, this weekends shows in Northampton & Cheltenham are going to be rescheduled. New dates will be confirmed soon and all tickets will remain valid so please keep hold of them. We apologise for any inconvenience caused and look forward to seeing you all soon.
The tour will continue as planned from Hull on Monday!
Big Love, UB40.
UB40 are very excited to announce their new 2021/22 Bigga Baggariddim Tour, stopping in 24 different cities across the UK and Ireland, including 9 brand new dates!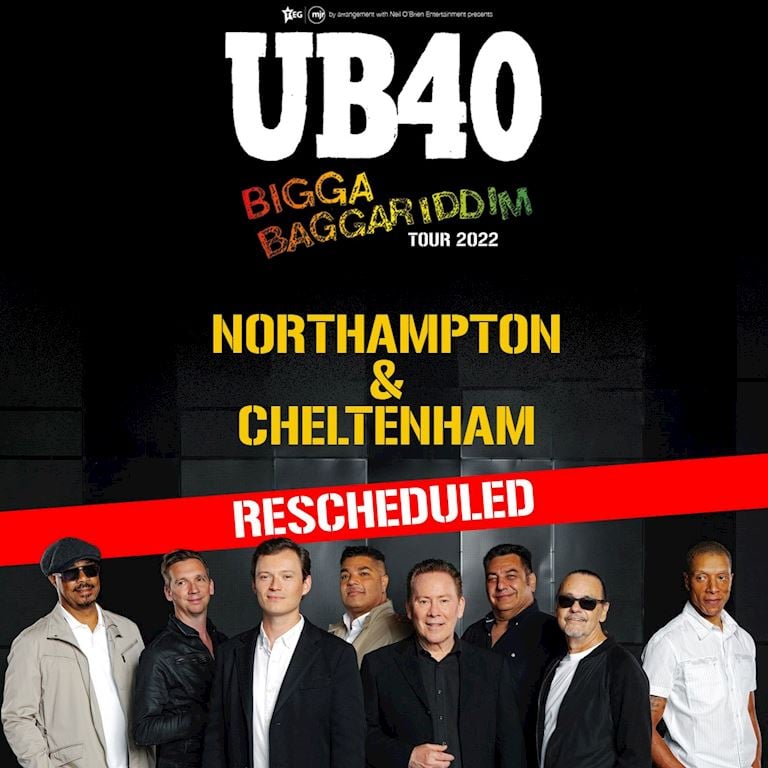 Where: The Centaur, Cheltenham Racecourse
When: Saturday 21 May 2022 - to be rescheduled
The show will feature some new songs for you from their upcoming album as well as the hits you know and love!
2021 saw the arrival of UB40's new collaborations album "Bigga Baggariddim", the follow up to the band's critically acclaimed and internationally successful 1985 release "Baggariddim". Much like "Baggariddim", when UB40 invited other artists to voice over their riddims, "Bigga Baggariddim" is an international celebration of Reggae, featuring New Zealand's House of Shem, India's Reggae Rajahs, reggae veterans Inner Circle, Tippa Irie and Winston Francis, and upcomers Gilly G. Kioko, BLVK H3RO and Leno Banton. The album also includes tracks with Pablo Rider and Slinger, who both featured on the 1985 "Baggariddim" album..
UB40 formed in 1978 and have since transcended their working-class origins to become the most successful reggae band in the world, selling more than 100 million records worldwide and spending over a combined 11 years in the UK album chart, alongside 40 UK hit singles, including their three No.1 singles (I Can't Help) Falling In Love With You, Red Red Wine, as well as "Baggariddim"'s I Got You Babe Ft. Chrissie Hynde making UB40 one of the most successful British groups of all time.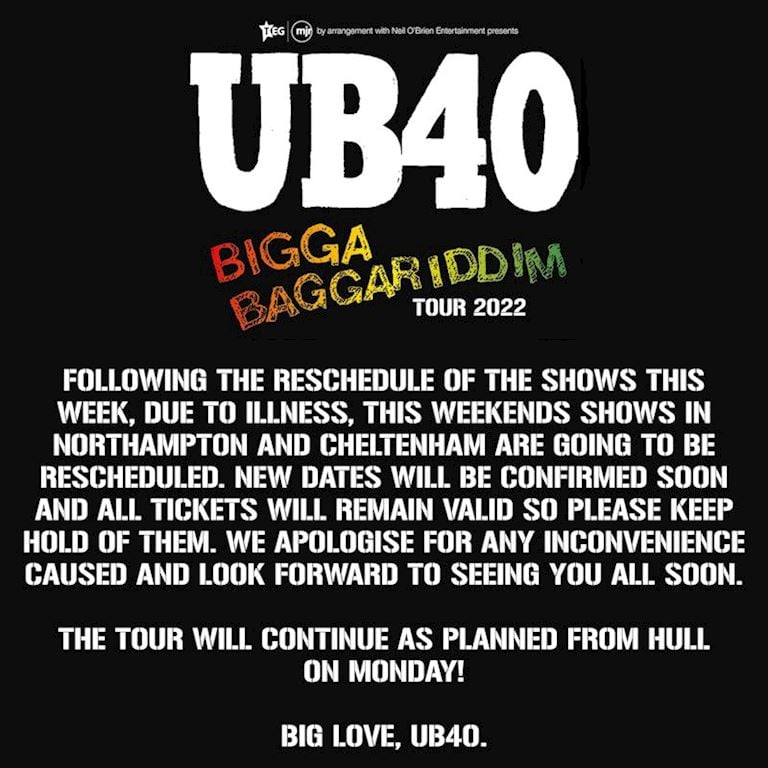 All you need to know about car parking, coach drop-offs, local bus services and taxi drop-offs to Cheltenham Racecourse.
Are you travelling or considering travelling to Cheltenham Racecourse via train, helicopter, coach or taxi? Find out all you need to know.
Are you attending Cheltenham Racecourse and looking for a place to stay? View our recommended, local hotels and accommodation.