The McCoys, the awards which recognise excellence in Jump Racing, were presented for the fifth time yesterday evening before an invited audience of 430 people in The Centaur at Cheltenham Racecourse in a ceremony hosted by Racing TV's Nick Luck and Jill Douglas of ITV Sport.
Established in 2017, The McCoys are named in honour of the most successful Jump jockey of all-time, Sir AP McCoy, who rode a record 4,358 Jump winners during his career and was champion Jump jockey in Britain an unprecedented 20 times. He retired from the saddle on the final day of the 2014-15 season at Sandown Park.
In determining winners at The McCoys, performances over the course of the 2021-22 Jump season at all Jockey Club racecourses that stage Jump racing are taken into consideration. These are Aintree, Carlisle, Cheltenham, Exeter, Haydock Park, Huntingdon, Kempton Park, Market Rasen, Sandown Park, Warwick and Wincanton.
Winners at The McCoys were determined by a panel of judges which in 2022 was made up of Sir AP McCoy himself, equestrian Olympian Zara Tindall, ITV Racing's Ed Chamberlin, Racing Post journalist Chris Cook and Jon Pullin, Cheltenham's Clerk of the Course.
There were no nominations for the two special awards – the Outstanding Contribution and Judges' Choice.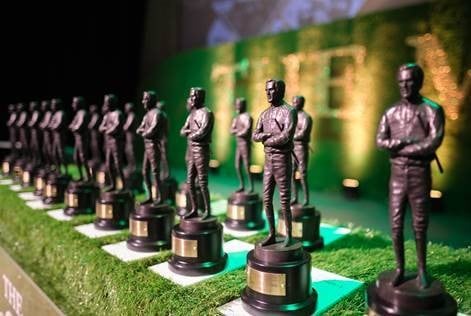 The McCoys – ready to be awarded
Robbie Power was the recipient of the Outstanding Contribution award. Power, who retired at the Punchestown Festival in April, partnered some 665 winners, of which 21 came at Grade One level. His four winners at The Festival™ were headed by Sizing John in the 2017 Cheltenham Gold Cup while a decade earlier he won the Grand National aboard Silver Birch. A son of leading international showjumper Con Power, "Puppy Power" was also successful in that sphere, partnering Doonaveeragh O One to victory in the Speed Derby at Hickstead in 2014.
Power, who recently joined the Bloodstock Team at Tattersalls Ireland, said on receiving his award: "It was a bit of a shock really, I didn't expect to come over here for that. Henry (de Bromhead) asked me to come over and receive his award and I was happy to do that, but I wasn't expecting anything else! I had a fantastic career and it's been great but to be rewarded with that was just amazing.
"Retirement has been good so far and I'm happy with my decision. Thinking about coming into the winter, I probably am going to miss it and I'll probably be a bit grumpy around Christmas.
"I've achieved everything I wanted to achieve and more in this sport and it's been very good to me and I'm looking forward now to watching top-class winter racing this season.
"It was fantastic to see some of the memories, it never gets old watching horses like Sizing John in the Gold Cup and Lostintranslation as well. In those years around 2017, things just rolled from one thing to another and it was a great time in my life going over and back across the Irish Sea. The Gold Cup was definitely the pinnacle.
"I wouldn't put myself in the same league as Ruby (Walsh) and Richard (Johnson) but I think lads like those made me a better rider. To ride against people like Ruby, Paul Townend, Barry Geraghty, AP McCoy, Mick Fitzgerald - I'll even throw Fitzy in! - and so on was phenomenal and I shared the weighing room with some of the best. They were some fantastic times with great camaraderie.
"I think every jockey dreams of winning either the Grand National or the Gold Cup when they start off, so to win both was just fantastic. You can be satisfied with your career when you've won those for sure."
The Judges' Choice award went to Clifford Baker. A consummate professional, Baker has been Head Lad to Paul Nicholls since 1996 and has worked alongside the trainer for each of his 13 Jump trainers' championships. Formerly head lad to David Nicholson, including for both of "The Duke's" Jump trainer titles, Baker is described by Nicholls as the first in the yard in the morning and the last to leave at night. His knowledge of stable management and equine husbandry is unsurpassed. Although he has now given up riding to concentrate on matters on the ground, he was a work rider for many years - most famously partnering the legendary Kauto Star every morning at Ditcheat.
On receiving his award, Baker said: "I feel very proud and it's a reward from such a great sport that I've loved all of my life. I've always said it takes over my life and my family have had to give a bit but to be fair to them, they don't mind. They know what it means to me and I hope I can do this forever.
"It's as much for them as it is for me. They know what I do day in day out and have done for donkeys' years, so it means a lot to them. It also means a lot to everyone at Ditcheat, I get a lot of support from everyone and we're a great team and long may it last.
"You can't ask for more than what we've had and winning a Grand National on top of all of the other success was just the icing on the cake. I want another Gold Cup winner! I've been lucky enough to have five Gold Cup winners from four horses and that's just magical. The Gold Cup is just the race that everybody wants to win and I've had my share, but I just want more!
"I still have the passion and I say it all the time, you have to have the enthusiasm to want to do it otherwise you couldn't do my job. The alarm goes off at quarter to five every morning – if you didn't live it you couldn't do it. I love my job and I hope I can just do it for as long as I can.
"I look back from even my David Nicholson days and there are a lot of people from there who are still in racing who I can say I've worked with. There are three trainers in there that have worked under us at Paul Nicholls and other people who have gone on and done well in the sport, there are jockeys who have excelled too. Team Ditcheat has produced a lot of trainers and jockeys and just good people in racing."
Clifford Baker alongside boss Paul Nicholls
Winners from each category can be found below, together with reaction from those present yesterday evening.
The McCoys 2022 – Winners
Stable Person of The Year – Sponsored by Pertemps
WINNER: Rachel Cook (John Bridger)
Having worked for her father, Hampshire-based John Bridger, ever since she left school, Rachael has racked up a remarkable 24 years of service. Described by her father as "hardworking, happy, quiet", Bridger also admits that at the age of 80 it is only with Rachel's support that the yard continues to function.
Rachel Cook said: "It was quite a shock to win actually. When dad nominated me I just thought we're a small yard and we're not all singing and dancing. We're unfashionable and I didn't expect to win and I just thought we'd be overlooked - we don't have any super highly-rated horses or anything but we just keep ticking away.
"Dad doesn't really say much and keeps it to himself really but my sister and my brother are here and I'm sure you can still hear them now! Deep down I think he'll be quite proud.
"Every day is just the same really at home, I don't really have any set jobs and I'm just a jack of all trades because we're a small yard. We know what we've got to do and just get stuck in.
"My daughter has just turned 15 and I'm trying to steer her away from horses to be honest and she's got a mock exam soon, but she's just not interested! She just wants to get outside and get stuck in with the horses, so I can't tell her what to do.
"Over the years we've had some really fantastic handicappers and we've still got Megalala (a 20-time winner) out in the field – who would be 21 by now. My daughter has just got a Duke of Edinburgh award on him, so he's come in handy for that! He's not the easiest to ride and is still a total nightmare at the end of the gallop but he's taught her! We've had some lovely horses over the years and we keep track of them all and try to rehome them."
ALSO NOMINATED: Amy Myatt (Clare Ellam), Marjorie Renwick (Harriet Graham), Andrew Robertson (Brian Ellison), Sarah Shreeve (Nicky Henderson)
Racing Ride of The Season – Sponsored by Natural Green
WINNER: Derek Fox (Corach Rambler, Ultima Handicap Chase, Cheltenham)
Derek Fox said: "It's very special to win this award. I couldn't believe that I was lucky enough to win a race at the Cheltenham Festival so to get recognised is amazing and I'm delighted.
"He has been pretty sluggish early doors in his races in general so I just had to bear with him for the first circuit or so. It all worked out very well in the end so we were very lucky.
"I knew touch wood that his jumping would hold up and he jumped really well late on, and I just thought if he could jump three out really well he'd stay on well up the hill – so it all worked out well in the end.
"When I first got my licence I always wanted to ride a winner around Cheltenham so to do it was very special. AP McCoy was always a hero of mine growing up and it's been a great night. Hopefully we can do it again a few more times, but this is definitely something I'll always remember."
ALSO NOMINATED: Aidan Coleman (Paisley Park, Chapel Farm Stud Cleeve Hurdle, Cheltenham), Sean Bowen (Mac Tottie, Randox Topham Chase, Aintree), Danny Mullins (Flooring Porter, Paddy Power Stayers' Hurdle, Cheltenham)
Horse Performance of The Season – Sponsored by NAF
WINNER: Constitution Hill (Michael Buckley/Nicky Henderson/Nico de Boinville) - Sky Bet Supreme Novices' Hurdle, Cheltenham
Owner Michael Buckley said: "I've just been reminded of the performance looking at a film of him. At the time it was pretty extraordinary because I've not seen a horse win like that at Cheltenham before. They're not supposed to do that and it's what people might dream of and wake up and realise that dreams might not come true – but they did that day.
"I was just shaking when I came off the stand, because I couldn't really believe it. It's one thing to win a race and I thought maybe he's special and he might win by five or six lengths but to win by 22 lengths and in that time was quite extraordinary.
"I've had one or two good horses. It has been well-documented that they didn't last very long, but I've never owned a horse going into a second season who is nearly as exciting as this because he is very young. He was only four going into last year and somewhat unfurnished so it's hard to believe what he might become now that he's becoming older and stronger.
"Fortunately I've had some other things to think about over the summer, I managed to break my hip on the tennis court and spent two weeks in an Athens hospital – so I've had some things to take my mind off jumps racing! I spent a chunk of the summer hobbling round but it's fun and exciting.
"I'll be a bag of nerves when it comes round to his race day again but right now it's a thrill to think that he's around and seems to be healthy. He's only five years old now so his world is his oyster in theory. I went to see him the other day and he's definitely grown up and I think he's starting to realise that he's a bit special.
"Historically what people have done with horses like him is go up to Newcastle for the Fighting Fifth and then go to Kempton and I think he'll either do that or he might go to Ascot first for the Ascot Hurdle and then go to Kempton all being well. After that, Nicky's campaign for Champion Hurdle horses – which is what one expects we'd want to do – is to go for the Contenders Hurdle at Sandown in early February and I think that would suit him better than the Kingwell as Wincanton is quite a tight track.
"I've never had a horse like this before but when you look at the programme it kind of writes itself, because there aren't that many opportunities for a horse to run in conditions races. It would be ridiculous to put him in a handicap and I don't even know how much weight he'd have to give away, but he's got such a high rating that it just sort of writes itself. If he won all of those, it doesn't really matter where he goes as far as I'm concerned.
"There's quite a gap between Cheltenham and Aintree so you'd think if he can do all of that we'd look at the Aintree Hurdle, but there's a lot of things to do before now and then for that to happen.
"I'm very lucky to have found this horse and it's a complete miracle really that I've ended up with him. I stupidly said to Nick Luck that it was lucky for me that he didn't look his best at the sales and I was able to buy him when nobody else did, because I've been at this a long time. I first came to Cheltenham back in the 1970s, so it's been a place of some wonderful days and a lot of heartbreak. I can remember going home with no money time after time after the Festival!
"A bunch of us used to play cards after the racing and if I had anything left I always lost it on the racecourse. And then I had a horse who ran in the Arkle who came to the last absolutely hacking up, before slipping in the mud and stopped completely and still finishing third. That's how I remember my life of starting out at Cheltenham, so it's been masses of rough days and wonderful days and it's a place I'm inevitably super fond of."
ALSO NOMINATED: A Plus Tard (Cheveley Park Stud/ Henry de Bromhead/Rachael Blackmore) - Betfair Chase, Haydock Park, Eldorado Allen (JP Romans & Terry Warner/Colin Tizzard/Brendan Powell) - Betway Haldon Gold Cup, Exeter, Fiddlerontheroof (Taylor, Burley and O'Dwyer/Colin Tizzard/Brendan Powell) – Colin Parker Intermediate Chase, Carlisle)
Horse of The Season – Sponsored by Sporting Life
WINNER: A Plus Tard (Cheveley Park Stud/Henry de Bromhead/Rachael Backmore)
ALSO NOMINATED: Ahoy Senor (Mrs C Wymer & Peter Russell/Lucinda Russell/Derek Fox), Edwardstone (Robert Abrey, Ian Thurtle/Alan King/Tom Cannon), Honeysuckle (Kenny Alexander/ Henry de Bromhead/Rachael Blackmore)
Training Achievement of The Season - Sponsored by Cotswold Forage
WINNER: Henry de Bromhead - Back-to-back wins in the Unibet Champion Hurdle & Boodles Cheltenham Gold Cup
ALSO NOMINATED: Alan King - Campaign of Edwardstone to win the Sporting Life Arkle Novices' Chase at The Festival™, Emmet Mullins – Training the novice Noble Yeats to win the Randox Grand National, Willie Mullins - 10 wins at The Festival™
Outstanding Contribution - Sponsored by WellChild
Robbie Power
Judges' Choice – Sponsored by WO Lewis
Clifford Baker
The McCoys 2022 – Winners determined by statistics during the 2021-22 season
Leading Owner – sponsored by McCoy Contractors
Mr John P. McManus
Leading Owner, three or fewer horses - sponsored by McCoy Contractors
J P Romans & Taylor, O'Dwyer
Jon Romans said: It's been an excellent evening made better by receiving the award.
"It definitely stirs up emotion watching back some of the victories, for sure. A winner is a winner and you can never stop watching them, I watch most of them on repeat!
"We've invested heavily in these three horses (Killer Kane, Amarillo Sky and Shirocco's Dream) and bought them all at the Cheltenham Sales. We paid big money and when it succeeds, it is good fun.
"It hasn't changed too much since Joe (Tizzard) has taken over, I understand that Colin is still gets up early in the morning and gives the necessary telling off to the staff! It hasn't changed and I don't think it will.
"I'm quite excited about JPR One this season. We bought him privately and I've been watching him training over the last few weeks, watch this space.
"The trophy will sit in the lounge and I'll be able to look at it every day when watching the racing on television."
Leading Trainer – 40 or more horses – sponsored by Beach Independent Financial Advisors
Dan Skelton
Dan Skelton said: "It's brilliant to be here and it's nice to win something! It's been a steady old summer and I haven't been racing too much, so to get an award is great. Everyone loves to win, I didn't know there would be a trophy involved so that's nice! It's a nice way to start the season and other than the rain everything is ready to go.
"With a bit of luck, all of those horses from last season will get to have another chance at it in that the ones that won races get to defend them and the ones that missed out get to have another crack. You get to this time of year and it's just nice to get back competing to be honest.
"Winning the Greatwood Hurdle was definitely quite fun, Bridget winning on Protektorat at Aintree was great and Langer Dan winning at Aintree was fantastic too.
"It's a big team effort and you don't always get time to stop and reflect but that half an hour when Nube Negra won and then West Cork followed up (at the November Meeting) was fabulous.
"Sometimes you don't really get a chance to think about it because the wheel has to turn on and you've another set of owners, but I took five minutes that day to savour it.
"I think this night is kind of cementing its place more and more in the calendar, the awards cover quite unique categories and I think it means you'll get different winners every year. It gives everyone a chance to get together before it really kicks off and you see some people that you haven't seen since Aintree or Sandown – so it's nice.
"I think short-term I'm really looking forward to Shan Blue going up to Wetherby for the Charlie Hall. We've got unfinished business there and I'd love for the horse and Colm (Donlon, owner) to just go and get that trophy because it was robbed from them last year. That's sport and we dust ourselves down and got over it.
"As the season materialises you just hope that all of your lovely swans of novice hurdlers and novice chasers stay very much above water and hopefully one or two of them can go all the way."
Leading Trainer – fewer than 40 horses - sponsored by Beach Independent Financial Advisors
Jeremy Scott
Jeremy Scott said: "It's always good to win and it's particularly nice to do so here. Cheltenham is an iconic place.
"As this event has grown it's kind of become part of what sets the season going, watching those VTs today gets your blood up and you just can't wait to properly get going. The only thing I'd say is I was a bit disappointed that Native Robin didn't get a mention as he won three times at Wincanton!
"If I could employ people with the enthusiasm of Native Robin and every horse had his spirit, racehorse training wouldn't be a problem! Every day he comes out bouncing, he probably schools twice a week and his enthusiasm never wanes. He's just a lovely horse.
"I'm a very small cog in the whole machinery of Jeremy Scott Racing. It's all of those guys that are out there very early in the morning and very late at night mucking out stables and riding. I've a wife and two daughters now that have joined the team and they're doing the work right now – I'm very lucky to be able to come here and be fed nice food and good champagne! It's a huge team effort and I hope they appreciate this as much as we do and they get the joy of dealing with some lovely animals.
"We've got all sorts of unbeaten horses sitting in our stables at the moment and they're all looking fantastic and all schooling beautifully, so we can't wait to get going. Time will tell whether they really are super stars."
Leading Professional Jockey – sponsored by Ellenborough Park
Brian Hughes
Leading Conditional Jockey – sponsored by Ellenborough Park
Chester Williams
Leading Amateur Jockey – sponsored by Ellenborough Park
Mr Tristan Durrell
Tristan Durrell said: "It's brilliant to win and great to get the award, it was a great season and I'm chuffed to bits. It was lovely to watch the video back, it was a great reminder of the season so it was brilliant.
"Come October it's so exciting to get going again, it's been quite a steady summer since having such a good season last year and I just can't wait to start again.
"It's a great yard (Dan Skelton) to be at and Dan winning an award tonight is brilliant. It's a fantastic place to be and I can't thank the team enough for their support.
"It is magic and a real privilege to have won a McCoy. The name is prestigious and it's a big thing to win, so I'm very grateful. He was a big idol of mine and I used to watch him every day, I struggle to be as good as him but I can only try!"
Leading Novice Hurdler – sponsored by Indiba
An Tailliur (FR)
Pat Hickey, owner, said: "He is something special, he has a great determination to win and of course for a racehorse that's a great attribute to have. Hopefully it's onwards and upwards.
"I think winning the race at Haydock in April (the Challenger Stayers Hurdle Series Final Handicap Hurdle) was the highlight, he did very well to win it and stuck his head out and we were delighted to win it of course.
"Hopefully he might make an appearance at Cheltenham next week, I think he might be running in the Pertemps qualifier so we'll see how he gets on and then we'll go from there.
"I've been here before to the awards night, but I've never had a horse good enough to be able to win a trophy. It means a great deal to win this and it's a recognition of the stable (Jonjo O'Neill) and all the hard work that goes into it behind the scenes – I've just had the enjoyment that's all. It's their award as well, I just pay the bills! It's a brilliant stable and a brilliant team and they're getting better and better.
"I've been coming to Cheltenham since I was 17, so that's many years. I won't say how many! It's exciting and we look forward to it and I'm lucky enough to be an owner who might even have runners at Cheltenham this year. We'll see."
Leading Hurdler – sponsored by Indiba
Marie's Rock (IRE)
Tom Palin, Director of Middleham Park Racing (ownership syndicate), said: "Last year was just a dream, 18 months ago she turned into a bit of a nightmare when we completely lost her. We didn't know where she went and we completely lost her for 12 months, but she came back this time last year in fantastic form and we gave her a couple of runs to check that everything was still moving.
"After Boxing Day (when she won at Kempton Park) she came back in scintillating form and to be stood here 10 months later having won two Grade One races is unbelievable when you think about what she's achieved.
"There wouldn't be a day that goes by where I don't watch back that race at Cheltenham! It's kind of like reading a book before bed, I just sit and watch that race back over and over again. It was unbelievable and really the stuff of dreams. She's a bit of a phoenix from the flames and it's exactly what makes this game so great.
"We've got 18 individual owners involved in her and I think you heard every single one of them at Cheltenham roaring and cheering her across the line! They've had some run with her.
"I think syndicates are the way that Jump racing is going to go. It's tough times out there at the moment, both on and off the racecourse, but racing is very much a leisure and this is what we can provide for that. If you're passionate about this game, get involved and have a go on a horse like this – it's quite infectious.
"She's the defending champion of two Grade One races and they're the logical targets for her, so we'll be working back from those. There's no immediate plans to see her, but we could come here on New Year's Day for the Relkeel or there's the mares' race at Sandown a week later. We're just looking at defending those crowns and we'll work around that.
"The plan would be to try and make her the only dual Mares' Hurdle winner since the mighty Quevega and if she can do that I'd say it definitely puts her into once in a lifetime territory."
Leading Novice Chaser – sponsored by Harrison Clark Rickerbys
Edwardstone (GB)
Ian Thurtle, joint owner-breeder said: "It was a dream because we bred him. My daughter and I foaled him and he's always been a big strong fella. We've produced him and sent him to Alan King and the rest is history.
"He wasn't a bad hurdler and had beaten a few good horses over timber like Fiddlerontheroof, he just took a while to come to with his chasing. As Alan (King) said these good horses aren't made overnight."
Robert Abrey, joint owner-breeder said: "It was a special journey and it still feels special now, you watch it all back and it's like it's not really part of us. We didn't have National Hunt horses until four or five years ago, we'd had moderate point to pointers for 35 years at the weekend and Ian and I both rode as amateurs and then all of a sudden this monster turns up. It doesn't make any sense, you can look at it any way you like!
"I think winning at Warwick (in the Kingmaker Novices' Chase) was the big test for his Arkle credentials. He was brought down the time before and we knew if we could go to Warwick and beat Dan Skelton's horse (Third Time Lucki) and beat him well, we'd have a real chance of going into there as a favourite. His jumping was great and his speed was great and all we needed after that was to avoid the ground being too heavy. From then on we probably thought we might have a chance.
"We're looking to come back here for the Shloer in November, provided the ground is okay and he's in good form and we'll take it from there. Alan is keen to go for that race and then we'll make the decision as to whether we stay at two miles or go for two and a half and then we'll probably think about the Ryanair if we needed to up his distance a bit. He's bred to stay and if we have to up his distance at his age we don't mind.
"I can't remember celebrating the Arkle win! There were 35 of us in the pub at Stratford that night and I was lost after about a quarter of an hour. We watched it back in the morning to make sure it wasn't a dream and we still do. If the horse does nothing more he's served us fantastically well.
"To people like us who just read about events like this, it's the Oscars!"
Leading Chaser – sponsored by Harrison Clark Rickerbys
Strictlyadancer (IRE)
Trainer Christian Williams said: ""It's great to win this award, he's a wonderful horse. To win at Cheltenham twice and then on Betfair Chase Day when we were under pressure that day was wonderful – especially when it came in the space of 28 days.
"He took the pressure off the big guns at that time of the season and it meant we could take our time with them and produce them when we wanted to.
"It's brilliant to win at Cheltenham and they were amateur races and then Jack Tudor got to ride him at Haydock as well. They were three special days, one in front of the other.
"We started Strictlyadancer off at Chepstow last year and we started Powerful Position off in the same race this year. He's our horse for the first amateur race at the Showcase Meeting and we go in there confident now and hopefully we can get a good result.
"We look to have a strong team and the staying chasers have come back in good form this year. Cap Du Nord had a nice blow the other day and goes for the Badger Beer at Wincanton, while Kitty's Light might go to Ascot or the Coral Gold Cup at Newbury.
"It's brilliant to be here. I came and experienced it last year when Jack Tudor was top conditional and it's just a wonderful event and it's great to pick a trophy up."