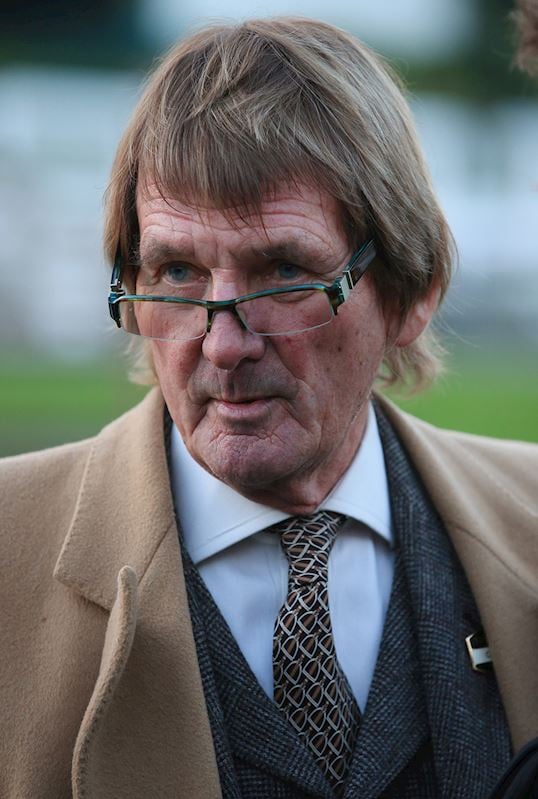 Andy Stewart, the leading racehorse owner, has generously sponsored a Listed handicap hurdle at The November Meeting at Cheltenham.
The £40,000 Listed Spinal Injuries Association Big Buck's Handicap Hurdle will take place over just short of three miles on day two of The November Meeting, Saturday, 16 November. The race recognises the important work of the Spinal Injuries Association and also commemorates the greatest staying hurdler of all-time, Big Buck's. Big Buck's created history by becoming the first four-time winner of what is now the Sun Racing Stayers' Hurdle at The Festival™ presented by Magners (2009, 2010, 2011 & 2012).
Big Buck's also broke Sir Ken's longstanding record set in the 1950s by winning 18 consecutive Jump races between January 1, 2009 and December 1, 2012 – a record which stood until surpassed by Altior in April this year. He has been with Mike and Lucy Felton since his retirement in 2014 and has hunted with the Blackmore and Sparkford Vale.
Andy Stewart has sponsored at Cheltenham previously, including backing the December Gold Cup between 2011 and 2013 and the Novices' Handicap Chase at The Festival™ in 2015. One of Andy's sons, Paul, suffered a severe spinal injury in a snowboarding accident in December, 2008, and was paralysed from the waist down. He was told initially by doctors that he would never walk again, but he proved them wrong and even went on to compete in triathlons.
Explaining his decision to sponsor once again at Cheltenham, Andy Stewart said: "My younger son Paul is disabled and I am very involved with the Spinal Injuries Association. The Spinal Injuries Association helped him enormously and he is able to get around and drive a car – he will be coming to Cheltenham on the Saturday of The November Meeting.
"I thought it would be a good idea to link up the Spinal Injuries Association with Big Buck's. Big Buck's won over hurdles at Cheltenham on New Year's Day in 2009 (the Unicoin Homes Handicap Hurdle), after he had fallen at the last when looking like he would he would win the Hennessy. Paul Nicholls then said we should go hurdling and I said 'You are bonkers!'. The horse he beat on New Year's Day was Don't Push It, who we gave over a stone to and of course went on to win the Grand National in 2010.
"Big Buck's then went on to four Ladbrokes World Hurdles as the race was known then, which was just amazing. He also won 18 consecutive races, which I know Altior has now passed with 19. I sent my congratulations to the connections of Altior by sending them 19 bottles of champagne, for which they were very appreciative.
"When Big Buck's won his 18th race in succession at Newbury in 2012, Simon Crisford came up to me and said he had Sheikh Mohammed on the phone to offer his congratulations – that is the kind of horse Big Buck's is. I also remember being with Andrew Lloyd-Webber and a boy came over wanting an autograph – we thought he wanted Andrew's but he said 'No, I want Mr Big Buck's!' and handed his pen to me!
"I have owned 200 or so horses during my lifetime but Big Buck's is so special – he gets more Christmas cards than the whole of my family put together and is still so well known.
Stewart is hoping to be represented in the SIA Big Buck's Handicap Hurdle by As De Mee, trained by Paul Nicholls, who has the Randox Health Grand National as his ultimate aim this season.
"Any prize money my horses earn over the three days of The November Meeting will go to the Spinal Injuries Association.
"The November Meeting offers great exposure for the work of the Spinal Injuries Association and it is great that this race will be broadcast by ITV."
Nik Hartley OBE, Chief Executive of Spinal Injuries Association, added: "We are most grateful to Andy Stewart and his family for supporting the 50,000 people who live with spinal cord injury in the UK.
"Our involvement in The November Meeting at Cheltenham will help us to support more people like Paul Stewart, so they have the best chance to rebuild their life after injury and achieve their full potential. We are only touching the surface of what is needed.
"The services we provide – an expert voice at the end of our Advice Line, a team of trained advocates to help people get the essential care they need after they are injured, or a Peer Support Officer who can provide practical advice and support – are crucial in supporting spinal cord injured people, including those who work within the equestrian community."
The November Meeting runs from Friday, 15 November to Sunday, 17 November inclusive.