Henry de Bromhead hailed the "very exciting" Bob Olinger after watching him win the Ballymore Novices Hurdle and insisted: "He couldn't have done it any better."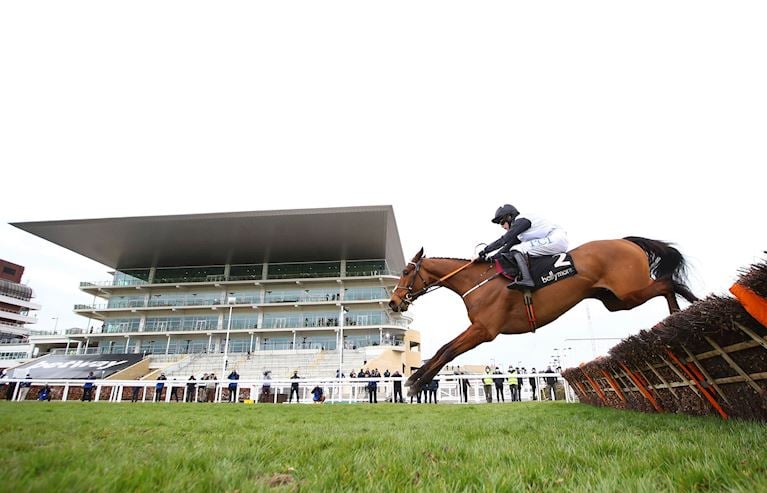 The trainer and jockey Rachael Blackmore, fresh from landing yesterday's Unibet Champion Hurdle with Honeysuckle, began day two of The Festival™ supporting WellChild with another success when the six year old justified 6-4 favouritism in the opening contest.
He travelled well throughout and never faced a serious threat as he came home seven and a half lengths clear of the Willie Mullins-trained Gaillard du Mesnil.
Henry de Bromhead said: "I'm delighted with him. Rachael was brilliant on him again, and he couldn't have done it any better. We were really happy with him; he's a horse we've always liked, and he's done very little wrong. He's very exciting.
"I started the season aiming at the Supreme, but everyone persuaded me, quite rightly, to step up [in trip]. I was very hopeful beforehand, as ever, but it was a very good race and you never know on the day. He has so much pace, but seems to be able to quicken as well of any kind of pace, so I'm not sure what distance he will be best at in the end; you could go either way with him, and at least he saw that out well.
"We'd have a very high opinion of him at home. He had to go and show it again today, but thankfully he did. He's got a great temperament and is just a really nice horse.
"We'll get through his novice season this year before we think too much about the future. He's built like a chaser and jumps like one, so we'd normally love going that way, but we'll speak to Brian and Robcour and see what they think, but we'll enjoy today.
Reflecting on yesterday's success, de Bromhead added: "Honeysuckle was great this morning (after her Champion Hurdle win), really good, full of herself, and I will imagine we will probably look towards Punchestown, but we haven't discussed it yet."
Jockey Rachael Blackmore told ITV Racing: "It's unbelievable. I'm so delighted for Brian Acheson (owner) and his family. He puts a lot into this game and he's got a very special horse on his hands now I think.
"His potential is sky high, I would say. He was phenomenal there. Look, it's unbelievable. He won a point-to-point for Pat Doyle and Henry got him then. Anyone who has ever been associated with him has thought an awful lot of him. Winning at Cheltenham is what it's all about, and he's done that now."
Ask if he will go chasing one day she added: "He will and there will be plenty of big days in him, hopefully. But it's just fantastic for everyone in the yard. Davy Roche puts a lot of work into this horse, so big thanks to him as well for all the work he does with him."
The jockey continued at the post-race press conference: "I'm so delighted for Brian Acheson and his family as they put a lot into this game and for them to get a win like that is phenomenal. They have a very special horse on their hands. It's brilliant.
"I didn't get as smooth a run as I thought I would in such a small field and I was a little bit keen passing the stands the first time but the manner in which he done it he has a massive future ahead of him.
"He won a point-to-point for Pat Doyle and he always thought a lot of him, Patrick Mullins won his bumper on him and he thought a lot of him so there is a lot of people who thought an awful lot of this horse and it is great he could and do that today and really show what he is made of.
"When you are going better than the horses around you it is easy to make your space. It was a little bit tighter but these are races in Cheltenham but you would expect that.
"He stays and he has got a hell of a lot of speed so he is extremely versatile in that sense, so it was a brilliant performance."
Trainer Willie Mullins said of runner-up Gaillard du Mesnil: "He ran well and he'll hopefully make a nice novice chaser, but he was no match for the winner. We'll go to Punchestown and then novice chasing next season."
Jockey Harry Cobden said of third-placed Bravemansgame: "I just couldn't believe that Bob Olinger was swinging when we were turning in. We went a nice even gallop and he's a freak. I thought my horse has run his race and he's just something else."
Nicky Martin, trainer of fourth home Bear Ghylls said: "He's run a cracker, and if he'd jumped better I think he'd have been a lot closer. He's never been that quick or in that sort of company - the first three are all Grade One winners - and he just doesn't respect hurdles.
"He's big, rangy and raw, and he just wants to get from one side to the other as quick as he possibly can. He came up the hill well and I really can't complain. He'll probably have a couple of weeks off now and then school over fences ready for next season."
1st - Bob Olinger – Henry de Bromhead IRE 6-11-07 Rachael Blackmore 6/4 Fav
2nd - Gaillard du Mesnil – Willie Mullins IRE 5-11-07 Paul Townend 9/4
3rd - Bravemansgame – Paul Nicholls 6-11-07 Harry Cobden 4/1
7 ran
Distances: 7½, 4½
Time: 5m 5.05s
Winner owned by Robcour
Breeder: Kenneth Parkhill
Breeding: b g Sholokhov (IRE) - Zenaide (IRE) (Zaffaran (USA))
Henry de Bromhead – 11th winner at The Festival™ supporting WellChild
Rachael Blackmore – 5th winner at The Festival™ supporting WellChild