Porlock Bay scored by a short head in the St James's Place Festival Hunters' Chase to hand Great Britain its first winner on day four and only their fifth overall at The Festival™ supporting WellChild in 2021.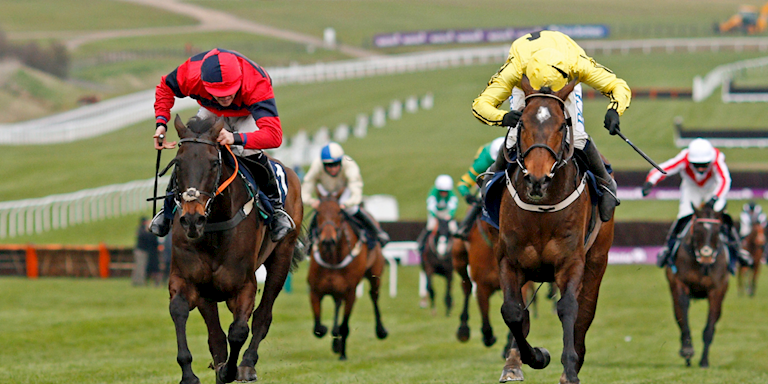 It was a first Festival success for jockey Lorcan Williams and for trainer Will Biddick, although the latter did partner Something Wells to victory in 2009 in what is now the Paddy Power Plate. Biddick would ordinarily have been in the saddle today but is unable to ride at present due to COVID-19 regulations.
Biddick told Racing TV: "I just can't tell you what's gone through my body in the last five minutes. I was in bits watching that. I was running up the side of the course with Lorcan, just screaming and I was in tears, I was a right softy.
"I'm so glad for Lorcan and John Studd the owner. It's not just me, it's a big team in the yard and a lot of boxes to be ticked to get here today. We were grateful just to be here today, so to top it off with that is phenomenal.
"He has spent most of his life in France, so right from the start it was the plan to come here. We haven't done Plan A to get here and to qualify, it's been mixed with Covid and waterlogging, but for whatever reason, it's worked and the result today… I promise you, I'm in pieces right now!
"I said ride him with loads of confidence, get him in a rhythm, keep relaxed — he knows the horse well — and ride him like he is the best thing in the race and you can see there, he's taken a pull out of him.
"Between horse and rider, they had so much confidence and the way he's jumped is magnificent, and he has stormed up the hill and you just want them to hold on don't you, so it's great.
"Lorcan had done the hard bit, then coming over the last two Porlock had to knuckle down and win the race. He's not the biggest of horses, but he wears his heart on his sleeve and he wanted that more than anyone else. You could see that, his head was down and he was really trying. He hasn't got the biggest of noses, but it was enough!
"I had tears running down my face. All that effort going in and you want your head in front at the end, but either way he ran a super race. I can imagine Harriet, my wife, and Archie (my son) and the whole gang at home in the yard… it's just fantastic."
When asked whether it feels as good as if he had ridden the horse himself, he added: "I don't mind. We are just grateful we have had the race as it looked in doubt for a while as to whether we were going to have a Foxhunters, all the trainers and owners have got these horses ready for this day and we are just grateful that we managed to have a race and we've been really competitive and won."
Lorcan Williams added: "He jumped the last really well. He was having a little bit of a wander up the run in as it is quite daunting. I felt he was doing enough but the line kept getting further and further away. I wasn't sure who won as I sort of just had tunnel vision and tried keeping as balanced and as straight as I could.
"Will has helped me a hell of a lot over the last few years. He has always been an idol of mine growing up through the point-to-point ranks, he was champion amateur and it has been a pleasure to ride for him. It's a dream come true.
"We weren't sure he would stay the last day so we rode him a bit more cold and we found out that he did stay so that was a weight lifted off our shoulders. I didn't think he was going to get by Sametegal last time so he had a bit of an easier time and as a result he has come out fresh today and really performed.
"I was always one or two off the rail and going down the back the last time I wanted to give him a bit of light so then we had plenty of room to make our ground and be handy at the top of the hill so I could fill him up. He has come alive when I gave him a bit of daylight and he was probably going too well.
"I was swinging on him at the top of the hill and I was trying not to drift too wide and I was just trying to fill him up but his jumping has been so accurate and that has what has got him there. I didn't want to go too soon up the hill as we know it's question punishing.
"I was fairly confident I had won but in those situations I try not to get my hopes up too much I know it sounds bad but I'm quite a realist. I always felt I was doing enough but whether the line was on our side I didn't know."
Willie Mullins, trainer of runner-up Billaway, said: "Our fellow jumped well and ran a great race. It was one of the finishes of the week. You win some, you lose some, and three years ago in the National Hunt Chase Patrick beat Will Biddick in a similar sort of finish, when Patrick was riding Rathvinden and Will was on Ms Parfois. Will got one back on us!"
Mark Walsh, aboard third-placed Staker Wallace, said: "Happy enough with that run, I got a good spin round on him. It was a very strong pace early on but he stayed on well and no complaints with finishing third."
1st - Porlock Bay – Will Biddick 10-12-00 Lorcan Williams 16/1
2nd – Billaway – Willie Mullins IRE 9-12-00 Paul Townend 2/1 Fav
3rd - Staker Wallace – Enda Bolger IRE 10-12-00 Mark Walsh 9/1
18 ran
Distances: sh, 13
Time: 6m 55.68s
Winning Owner: John Studd
Breeder: John Studd
Breeding: b g Kayf Tara - Exolthir (FR) (Muhtathir)
Will Biddick – 1st winner at The Festival™ supporting WellChild
Lorcan Williams – 1st winner at The Festival™ supporting WellChild