THE INTERNATIONAL FRIDAY
Get the party started at The International with an action packed card that has something for all Jump racing fans on Friday 10 December.
Join us as we will be enveloped in a sea of yellow for the launch of Tiggy's Trust. Tiggy's Trust is a foundation that was set up in memory of Tiggy Hancock, an all-round wonderful person, talented rider, beloved daughter, adored sister and loyal friend who was taken from this world on the 16th of June 2021 at just 15 years of age.
We welcome everybody who is coming racing to wear an item of clothing that is yellow to support Tiggy's Trust.
Tiggy's Trust also have an auction where there are some fantastic lots on offer which you can view here.
From the the Glenfarclas Cross Country Chase to the Unibet Handicap Steeple Chase, it's an important day in the Festive racing calendar and one that always delivers in the entertainment stakes.
Storm Control, Cogry and the Grand National-winning Mon Mome are just some of the names to taste glory on the Friday of the International.
After racing, we will see the return of the Tattersalls Cheltenham December Sale which provide clients the opportunity to purchase quality English and Irish point to pointers and National Hunt Form Horses from the spring season. The sale is attached to racing and takes place after the last race.
Josh from the Lucky 15's and his fiddler will be returning to The Centaur balcony to entertain you whilst you walk into the racecourse.
There will also be live music in The Centaur from The Wickermen from 3.45pm - 4.45pm. In Tiggy's honour, they will be named 'The Tigmeisters' for one evening only and they will be opening and closing their set with Yellow by Coldplay, which was one of Tiggy's favourite songs.
Please note: We are a cashless venue. On-course betting facilities will take cash and there are cash machines on site.
RACE IN STYLE
Guarantee a memorable day out by matching superb sport with fabulous food and magnificent facilities at Cheltenham Racecourse for The International Friday.
With excellent views of the racecourse and a lavish dining experience, the excitement of the day is easily accessed from your table.
It's the perfect way to entertain clients, family or friends – a day you'll never forget!
Sponsors and race names are correct as of November 2021. These are subject to change.
| Start Times | Race | Distance | Type |
| --- | --- | --- | --- |
| 12:05 | The British EBF 'National Hunt' Novices' Hurdle Race (CLASS 3) | 2m abt 1f | Hurdle |
| 12:40 | The Tiggy's Trust Novices' Limited Handicap Steeple Chase (Class 2) | 3m 1f 56yds | Steeple Chase |
| 1:15 | The Catesby Estates Handicap Hurdle Race 0-140 (Class 3) | 2m abt 1f | Hurdle |
| 1:50 | The CF Roberts Electrical + Mechanical Services Mares' Handicap Steeple Chase (Class 3) | 2m 4f 127yds | Steeple Chase |
| 2:25 | The December Handicap Steeple Chase (Grade 3) | 3m abt 2f | Steeple Chase |
| 3.00 | The Glenfarclas Crystal Cup Cross Country Handicap Steeple Chase (Class 2) | 3m abt 6f | Cross Country |
| 3:35 | The CITIPOST Handicap Hurdle Race (Class 2) | Abt 3m | Hurdle |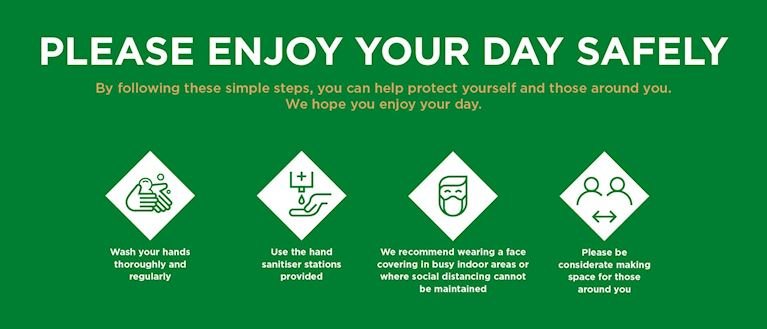 COVID-19 GUIDELINES
All racegoers are recommended to observe the following measures:
Wear face coverings in enclosed and crowded areas – there will be additional facemasks available on the entrance to the racecourse but we recommend you bring your own.
Wash hands regularly – there will also be hand sanitising stations around the racecourse on the day and we recommend you use them frequently.
Observe social distancing where practicable and enjoy the vast amounts of space around the racecourse and avoid congregating in busy areas.
Be Covid-19 double vaccinated and any booster when offered, depending on personal circumstances, or undertake a Lateral Flow Test 48 hours prior to the raceday to identify positive cases.
If you feel you may be experiencing any of the recognised symptoms of Covid-19, please put on a face covering and speak to a member of staff in a well-ventilated area.
It is best to travel home if it is safe to do so. Please do not attend if you are feeling unwell or are self-isolating.
Thank you so much for your continued support and co-operation. We hope you have a wonderful day with us.
Tickets
Book in advance for the best price
100% Money Back Guarantee
Attend with total peace of mind that your safety is our priority
Find Tickets