Just before The April Meeting Thursday, we invited our Junior Jumpers™ to a behind-the-scenes tour at Cheltenham Racecourse for a morning to remember.
The tour began with a talk from our Head Groundsman Ben Hastie and his team. The children and their parents all had a chance to walk the track and see the final fences of the racecourse. With the Ground staff, supported by Racing to School's team, on hand to explain about the two different courses, how to build a fence and giving the children the opportunity to race the steep final furlong up the hill to the Winning Post.
From there, Racing to School taught the children how to read a racecard, as well as a lesson in 'how to ride' on the equicisers, causing much amusement to the children (and their parents)!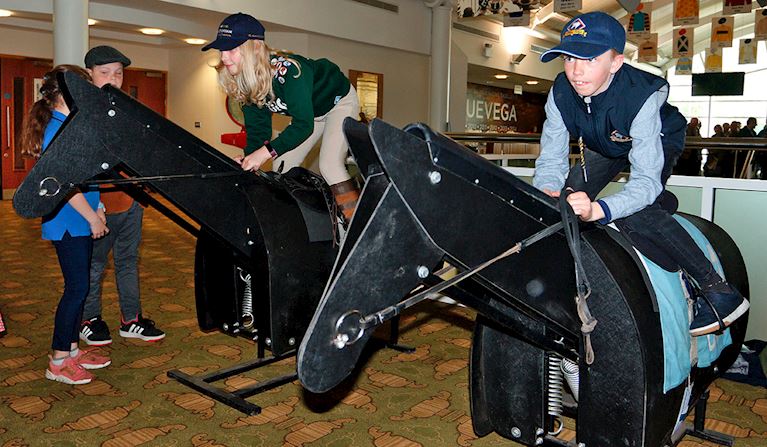 ITV Racing presenter Luke Harvey, welcomed the Junior Jumpers™ into the weighing room, giving a talk on life as a jockey. Some of the children were allowed to weigh in before entering the jockeys' changing rooms too! They were all able to wander around the Weighing Room and admired all the historical pegs where jockeys past and present have signed their winning rides on their spot. They all also watched as the Valets laid out the jockeys kit, ready for The April Meeting racing later that afternoon.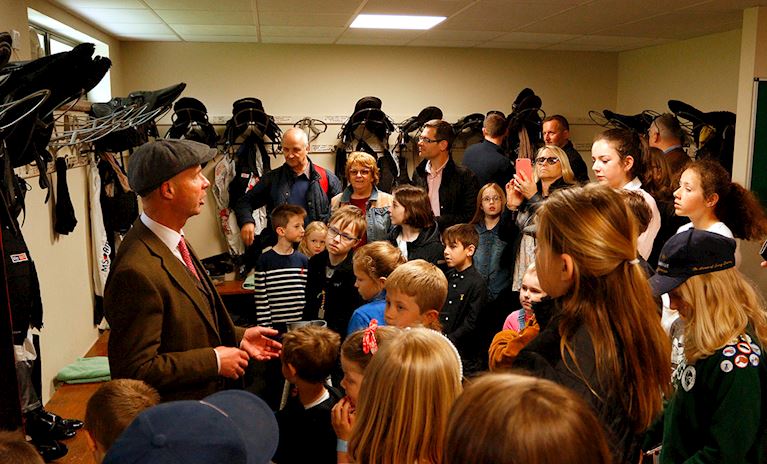 To finish off a fantastic morning, Rachel Keeble, a Vet Physio and her horse Snoopy, whose muscles had been painted on, provided an interesting talk on the horse and the function of a horse as it races around the track detailing how the horse feels and the muscles they use.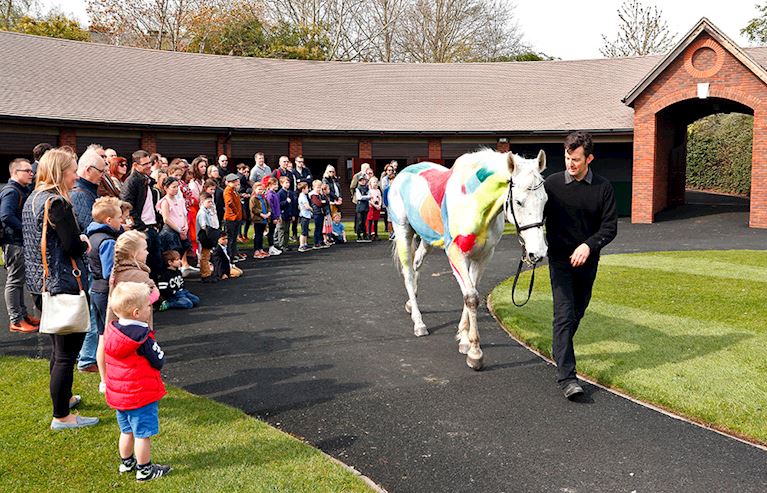 "To be able to go into the weighing room was such an honour as its normally out of bounds on a raceday, what an amazing experience, I just can't stop smiling as I was walking around just looking at history", said one very excited parent.
Junior Jumpers™ is a FREE membership for under 18s and for each race meeting they attend they can collect stamps and badges. Under 18s get free entry into our South West Racecourses (Cheltenham, Exeter, Warwick or Wincanton Racecourse). Sign up your little ones today for their free Junior Jumpers™ membership!