Welcome to part five of our Syndicate Tales, including news and updates on our Syndicate horses, behind-the-scenes information, and any Membership news.
Let me introduce myself, I am Hannah and as well as Business Development Executive for Exeter Racecourse, I look after all things for the Cheltenham and South West Syndicate. If you've dreamt of being a racehorse owner, here is your chance! Find out more here.
This time last week I was readying myself for two very exciting prospects; the first was collecting my new English pointer puppy (originally named Dottie, now Inca - after much deliberation, it was decided the former was too cliché and the latter fitted nicely since it is a black and white hummingbird, in case you didn't know…) and the second was the anticipated return to a racecourse since The Festival back in March with our first declared runner of the 2020-22 Cheltenham and South West Syndicate.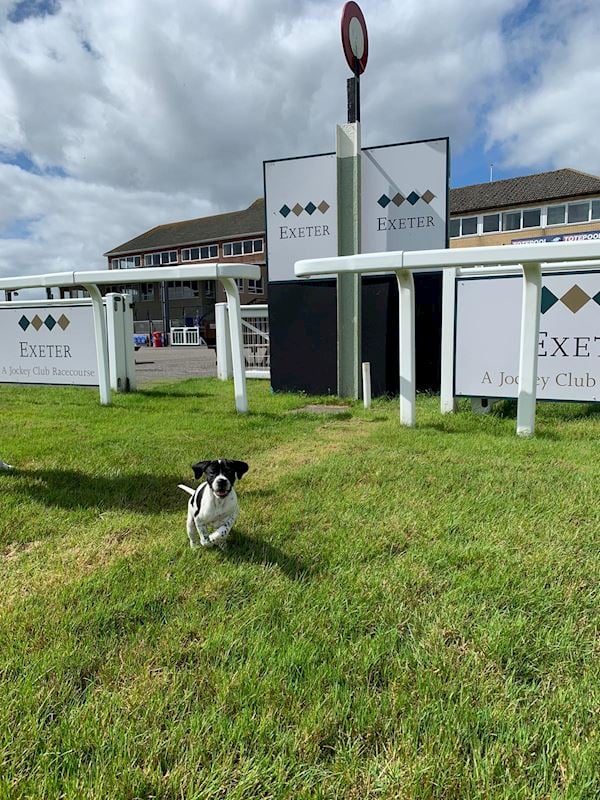 True to his word, Nicky was keen to get a head start with Diamond River so had him all set to have his first run this season, and third in total, at Uttoxeter in the Intermediate National Hunt Flat Race. The team at Seven Barrows have always been quietly confident when it comes to the capability of our flashy, Imperial Monarch gelding and he had been reportedly been working very well at home with the talented mare Verdana Blue, who also ran on Saturday in the Ebor at York (eventually finishing third after a very 'gutsy' run) which only bolstered our hopes for Diamond River's chances. To cut a long, waffle short, he started the short priced favourite and made all to win the bumper by 3 ¼ lengths, despite running slightly wide around the last bend before straightening up for home.
It was the dream start to the next two seasons of the Syndicate and who better to tell you what a day at the races as an Owner currently feels like than one of our members, Michael Haywood, who joined the Syndicate this July….
'My first visit as a syndicate owner was to Uttoxeter racecourse to see Diamond River's first run of this campaign. What a small but lovely course nestled in the middle of the town.
A strange but fantastic day started with having my temperature checked at the gate. It was all very well organised and reassuringly safe. After parking I was then directed to the owners' allocated pavilion for a welcome cuppa. A few more owners shared the facilities but it was rather exclusive with only us there and being outnumbered by racecourse staff. Very different to any other racedays I have enjoyed but the 'new normal' as everyone keeps telling me!
We were allowed to use the boxes which were overlooking the Finish Line and course to have a wonderful view to watch the nine races. Strange not to have crowds around but made it all the more a special experience.
The races were very competitive and enjoyable to watch with loads of spare time between them as there were obviously no queues. After a slow start on the betting front a few winners soon got the excitement build towards Diamond River's moment in the last race of the day.
A very up close and personal experience with the trainers, jockeys and horses moving around the paddock which was next to the pavilion. I enjoyed a nice boxed afternoon tea in there and sat nearby was Nigel Twiston Davies enjoying a beer, with what I can only assume was his owners, between races. All quite surreal!
Hannah rang me so I could meet up with her and the other three owners prior to Diamond River's race starting. Nice to share the experience with some other fellow horseracing fans. We were all very excited as Diamond River came out to the paddock. He was up on his toes and looked beautiful with Nico feeling confident. As the horses were leaving the paddock, one of the horses reared up in the paddock with the jockey coming off, reminding us just how close to the action we were!
The horses made their way down to the start of the race and the course really did look in great condition with the official going down as 'Good'. We quickly rushed up to the private boxes to see our horse go to the start from our own balcony and I managed to take some great photos before during and after the race which I will treasure.
The race started with Diamond River leading off and staying in front all the way as they turned the top bend. A few nerves set in as Diamond River showed his "greenness" as he wandered a little down the home straight. We all started shouting and willing our boy home who just needed a bit of direction from Nico and then he was off again heading down to the Finish Line crossing a few lengths ahead to all our cheers and celebrations.
All smiling and giving virtual hugs, we made our way back down to the paddock to see Diamond River return. He still looked full of running, prancing around and Nico came over to see us and explained he would come on for the run and now go novice hurdling. Looks a nice prospect!
What a great day made even more special by our horse winning!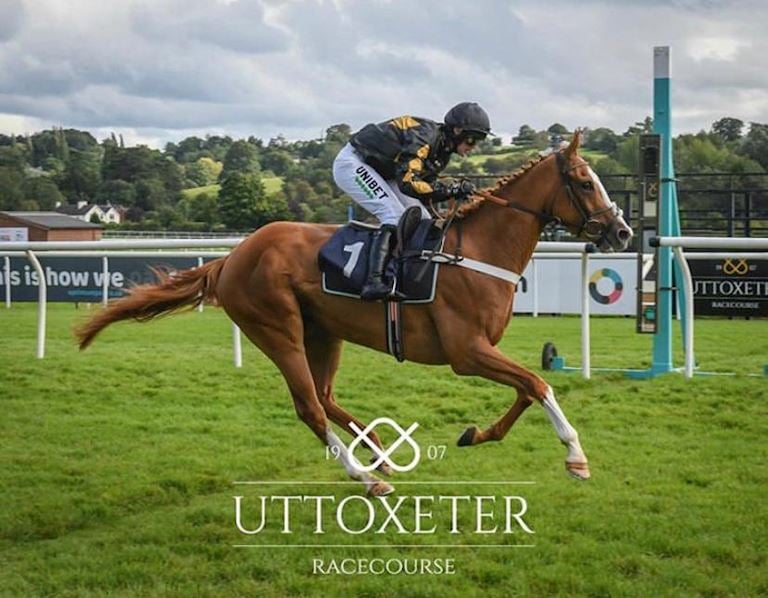 Looking forward to the rest of the season and thanks to Hannah (and Diamond River!) for a lovely day.'
And my particular thanks to the team at Uttoxeter Racecourse who really did look after us all and made an experience we were all slightly apprehensive of, a very enjoyable day at the races…of course bolstered by the fact that our chap came home with his head in front. Onwards and upwards now!