Welcome to part four of our Syndicate Tales, including news and updates on our Syndicate horses, behind-the-scenes information, and any Membership news.
Let me introduce myself, I am Hannah and as well as Business Development Executive for Exeter Racecourse, I look after all things for the Cheltenham and South West Syndicate. If you've dreamt of being a racehorse owner, here is your chance! Find out more here.
With the announcement last week that ITV Racing will continue its exclusive free-to-air coverage of British racing for a further three years from 2021, I thought it only right to take you back to one of our exclusive tours with Syndicate ambassador and ITV Racing's anchor, Ed Chamberlin and some other familiar faces from the team last season. Of course, I could ramble on and tell you how much fun it was yada, yada, yada…. however, it's much better coming from Robert and Anne White, two of our members from the start of the very first 2016 Syndicate. Here is there account of our 'glimpse behind the TV screens' back at The International meeting last December.
Our visit to Cheltenham on Saturday December 14th 2019 will always be remembered in our household, due to it being the day Anne and myself took part in the ITV Behind The Scenes Tour, which was well organised from the start.
We met Hannah and Ed Chamberlin at the appointed time of 11.00 am, he led us through the Parade Ring with photos taken on the podium from which the ITV team present the show. Ed introduced the eight lucky punters who were selected for the tour to his fellow presenters Oli Bell & Alice Plunkett, all the time making sure he explained exactly what happens throughout his time on air i.e. how he's counted down to the adverts etc. and how he sometimes finds himself filling the time with facts, supplied by, in his words, 'The font of all knowledge' Richard Hoiles.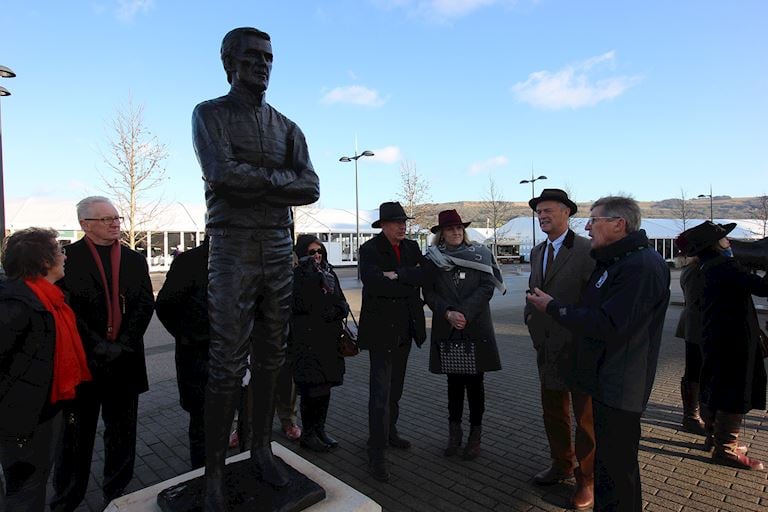 Ed then whisked us through the security cordon that surrounds the Mobile Production Truck, which we learnt costs a small fortune (!) and when on-board you can see why. Technology clearly plays a big part in the overall TV presentation, it really is an impressive bit of kit. There's a bank of in-excess of 30 TV screens which were being monitored by various people, all of whom we were introduced to (apparently they use more screens when covering The Festival), including Ruby Walsh who was watching reruns of previous races and making some final adjustments to his notes to be used on air later.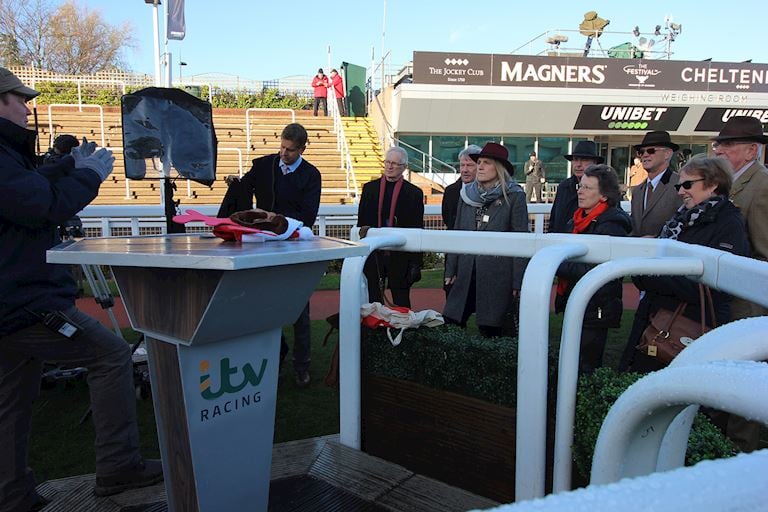 It was interesting to learn of the ever ongoing innovation in the world of television. For example, Ed spoke with great enthusiasm of how he and the team relish introductions like the wire cam, which gives a bird's eye view over the paddock. You can tell this is more than a job to Ed, it's a passion much like the sport of racing itself is. He is not only passionate about racing, but so generous with his knowledge and extremely welcoming. He was constantly talking to us, keen to find out about the Syndicate members and what made them get involved whilst at the same time putting each and everyone of us at ease with many a laugh along the way. This all culminated in us joining in the opening credits to that Saturdays ITV's racing programme (ending with Ed climbing on A P McCoy's statue and adorning it with a Christmas hat!!).
After the tour, we went our own ways to find a coffee and get set up for the day's racing ahead. Our day only got better as we went on to back four winners, so it really was happy days!
With the recent news that ITV have managed to renew the contract to show horse racing until 2023 now, I would urge any member to put their name down for the ballot to be selected for an Access All Areas Tour should the Jockey Club Syndicate offer another opportunity.
In Robert's words 'You may need to edit it a bit (!!) but those are our magical memories of that day'.
On the contrary Robert, no amendments required and very well said.
To find out more about our Cheltenham and South West Syndicate, click here. Membership is available to buy online today, or call Hannah on 07790 356820 to enquire.