Welcome to part seven of our Syndicate Tales, including news and updates on our Syndicate horses, behind-the-scenes information, and any Membership news.
Let me introduce myself, I am Hannah and as well as Business Development Executive for Exeter Racecourse, I look after all things for the Cheltenham and South West Syndicate. If you've dreamt of being a racehorse owner, here is your chance! Find out more here.
We are officially into the Jump Season 'proper', as they say. In an ordinary year, we would be dusting down the tweed, brushing up on form and readying ourselves for the first of seven visits to Cheltenham for the season.
Unfortunately, as we all know to be the case, this year won't be like any other in so much that our first fixture, at least, will be behind closed doors. But, thank goodness for Syndicate ambassador Ed Chamberlin and the wonderful ITV Racing team who have kept us all so well-entertained through the summer months that make up the Flat Season and will no doubt continue in this vein as we make our way through the best of the Jumps action with them at the helm.
On that note, as well as the resumption of racing at our South West courses, Hes No Trouble is due to be entered at Wetherby next Friday 30th October in a 0-125 Handicap Chase for his first run back this season. Kim has been ready to run him for a week or so now but has been waiting for the ground to soften to better than Good ideally so fingers crossed we get some rain the coming two weeks.
After his debut race over hurdles at Uttoxeter at the end of last month, Diamond River has been sent to Henrietta Knight's to work intensively on his jumping. With particular intention of practising on grass as this is something he hadn't done at Seven Barrows prior to his run with all his schooling having taken place on an all-weather surface. This is something Nicky often does with his young horses and it will no doubt be a very beneficial 10 days in his career.
Finally, Docpickedme (Derek) is 'the new kid on the block' this season and we're all very excited to see how he follows up his impressive Irish Point to Point win back in March of this year with his debut under Jump rules this side of the water. No doubt all eyes will be on our new Getaway gelding when he takes to the track for the first time but it's the people at home, working with him every day of the week at all hours and in all weathers that know him best. That said, I asked Emily Shepherd, Harry Whittington's Pupil Assistant, to talk us through a day in her shoes to get a taste of life on the yard and what it really takes to turn out Cheltenham Festival and Grade One winners as Harry is clearly more than capable of…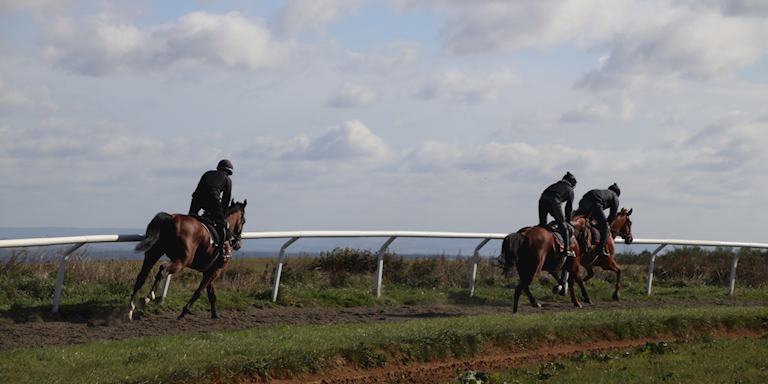 A Day in the Life of a Pupil Assistant at Harry Whittington Racing: Emily Shepherd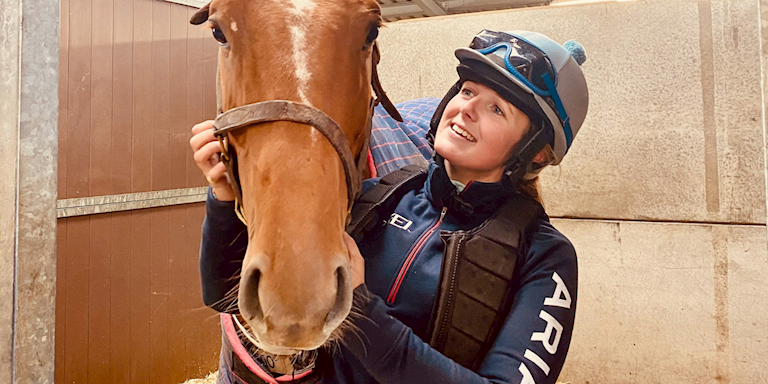 6:30 AM: All the lads come in for 6:30 and, with just over 50 boxes to get through, we get stuck straight in with the mucking out as there is plenty to do. We each have our own sections to do, which is great because it means you get to know each of the horses on your row really well and likewise, they get into a routine with their regular stable lad or lass.
7:00 AM: By 7am the work riders are in, and first lot is on the walker as the sun starts to rise… hopefully! We've been really lucky with the weather up until a couple of days ago when storm Alex hit, but I'd much rather be working outside (even if a bit damp at times) than being stuck behind an office desk. There are some days where it is freezing cold and raining and you go through about three sets of clothes in a morning, but when the sun comes out and all the horses are gleaming, you feel like you are on top of the world up at Hill Barn.
9:00 AM: Time for breakfast (and hopefully someone has bought in some biscuits or a cake). The first two lots have been ridden and done up- that is they have cooled-off after exercise and have their rugs back on by this point. The boss likes to make sure everything is kept warm, and the job is done properly so no corners get cut when it comes to the care of the horses, which is especially important this time of year as they can easily catch a chill after exercise.
9:30 AM: Usually, we will have three more lots after breakfast, unless we have been schooling (jumping) or it is a work morning. By 'work' I mean that the horses do a stronger and usually quicker piece of exercise to what they do on a day-to-day basis as part of their interval training regime whereby they have quieter, recovery days in between work days. We usually have two work mornings a week and on the other days the horses do a more routine, steady piece of canter work.
Today it was a work morning, and I got to ride Docpickedme who went nicely up the back of The Hill, one of The Jockey Club gallops over in Lambourn, which is a short hack from Hill Barn to get to.
11:30 AM: By now everything has been ridden and all the riders will be doing up their horses, which involves giving them a really good brush and painting their feet with hoof oil, both really important for making sure the horses look and feel well in themselves. We each have our own horses to look after which includes keeping them well-groomed and taking them to the races when they run and each person has about five or six horses each under their supervision.
As pupil assistant, I only have three horses as I am at the races a lot more often than some of the others but getting to go and lead up is one of my favourite parts of the job. I love making them look smart for the Parade Ring, in fact, I think I have just about every type of brush, spray and quarter markers going in my racing kit! It seems a little bit odd and there is definitely a different atmosphere at the races under the current circumstances with COVID, but that said, it's just so nice to be back at the races, especially the Jumps. Even if your horse doesn't win, the main thing for me is seeing them cross the line happy and come back in one piece. If they pick up a place or get their nose in front, then that is an added bonus, and it certainly gives the whole team a welcome boost.
4:00 PM: If we haven't been racing, then its evening stables. This consists of filling water buckets, feeding the horses hay, changing rugs if necessary and general tidying up, before feeding and final checks to finish up for 6pm. There is no better feeling for me than leaving the yard in the evening and knowing that all the horses are tucked up and cosy with plenty of food, especially in winter when it's generally a bit cold, wet and dark-feeling. Like any job, it can be a bit tough at times, especially when the weather is testing and the mornings are early. But the rewards are more than worth it in my opinion, just getting to work with some amazing horses and meeting great people makes me very happy to call this my job.
To find out more about our Cheltenham and South West Syndicate, click here. Membership is available to buy online today, or call Hannah on 07790 356820 to enquire.