Cheltenham Racecourse today announces top model, Frankie Herbert, as 2020 fashion ambassador for The Festival™ presented by Magners with a series of beautiful images taken at the world-famous racecourse.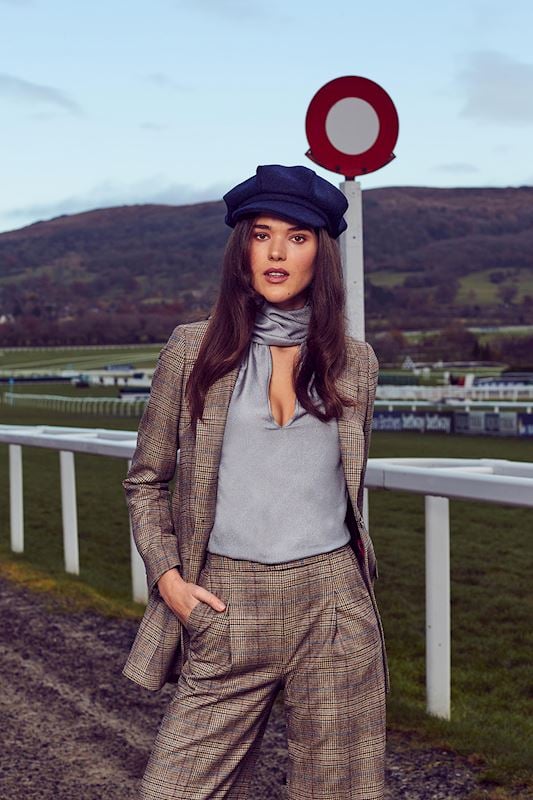 This year, the four-day Cheltenham Festival starts on Tuesday 10th March with the final day, hosting the Magners Cheltenham Gold Cup, on Friday 13th March.
Frankie, who has modelled and appeared on the catwalk for the world's leading fashion houses including Dolce & Gabbana and Richard Quinn, is the first ever fashion ambassador for what is known as the 'Pinnacle of Jump racing'.
The 24-year-old said: "I'm so excited to be working with The Jockey Club around this year's Cheltenham Festival. I have grown up with horseracing so being able to mix it with my modelling career is a dream come true. We had a great day shooting the looks at the racecourse - I can't wait to come back when its full in March!"
A keen horsewoman, Frankie grew up surrounded by animals and her father, Harry Herbert, continues to run one of horseracing's largest syndicates, Highclere Thoroughbred Racing. As well as modelling, Frankie is a graphic designer and charity volunteer.
Ian Renton, The Jockey Club's Cheltenham & South West Regional Director, said: "We're really excited to welcome Frankie to Cheltenham. She is a fabulous personality with a wonderful racing background and fashion experience. The Festival is a hugely important social event for many to attend and fashion is a key part. We are set for four extraordinary days of racing in March and look forward to welcoming racegoers to Cheltenham."
Stylist Sarah Kate Byrne used a mixture of designer and high street brands to create four looks. Each look was based on the four individual days' colour themes; blue – Day one (Champions Day); purple – Day two (Ladies Day); green – Day three (known as St Patrick's Day); gold – Day Four (Gold Cup Day).
At The Festival itself, the huge tented village provides a fantastic shopping area with 70 stands including Holland Cooper and Fairfax & Favor. The Orchard™, in its second year, offers an exclusive shopping experience from Boodles and Bentley with live DJs playing while racegoers browse.
In addition, The Orchard™ will also this year offer a new private hospitality experience known as The Pods. Each Pod, with its own balcony, will be available to hire accommodating 12-20 guests.
The new enclosure for 2020, The Park, will include a Ferris wheel, Magners Bar and performances from DJs Nick Grimshaw, Laura Whitmore, and two more artists to be released.
Frankie will be attending Day Two of The Festival on Wednesday 11th March. Tickets for all four days are available to purchase at here or by calling 0344 5793003.