Welcome to part three of our Syndicate Tales, including news and updates on our Syndicate horses, behind-the-scenes information, and any Membership news. If you missed part one, read it here.
Let me introduce myself, I am Hannah and as well as Business Development Executive for Exeter Racecourse, I look after all things for the Cheltenham and South West Syndicate. If you've dreamt of being a racehorse owner, here is your chance! Find out more here.
I can't decide if it's just because it's Friday or because I got a good news cheque that I'd been expecting through the post this morning (although the amount of internet shopping I've got through over lockdown, I've definitely already spent that three times over!) but either way, I really am starting to feel all the more positive about this whole situation.
Now...onto to our horses! From the enthusiastic reports I've received of late, they're all seemingly coming along very nicely in their work and Diamond River looks the likely candidate to get the ball rolling, all being well, having his debut over hurdles towards the end of September.
Docpickedme is well into his canter work at Hill Barn Stables and Harry is growing increasingly fond of him – I'm starting to think he should've been called 'Harrypickedme' never mind 'Doc' (Derek O'Connor of course, not the doc!).
As for Hes No Trouble, we will find out a bit more about him next week as myself and one of our ambassador's Lee McKenzie plan to visit Kim and him in person to get a closer look at how he has fared over the summer months of lockdown.
Whilst all of that is going on and we are waiting patiently in the wings for the new season 'proper' to commence, I asked a couple of our northern-most members, Nicola Baillie and Rachel Burt, to give us some inspiration and reminder of the good days by retelling their day at Huntington last February when Hes No Trouble got off the mark with his first win in a Novice Hurdle. Ladies, we're all ears…
'Being based up in Lincolnshire, we always get very excited when one of our syndicate horses run in the Midlands as it is much nearer home so it makes it all the more special.
When we saw Trouble was entered in a Novice Hurdle at Huntingdon, both Rachel and I immediately put ourselves in the ballot and were thrilled to be allocated Owners and Trainers admission for the day – left at the gate to be collected on arrival. Although we are given a meal ticket (which I have no doubt is delicious!), we are creatures of habit and always have taken a picnic which we eat in the car park. We do the same for the Festival at Cheltenham as well but, admittedly, perhaps a little more 'liquid' involved in the picnic for those days!

I remember it was February but regardless, the most beautiful sunny day and the sun was certainly shining on us as far as the racing went too. Huntingdon is always very friendly to everyone but particularly as an Owners. We were offered a glass of champagne on arrival and made to feel rather special before we made our way to the Owners and Trainers bar which was easy to find and 'buzzy'. Hannah met us and the other members there, as arranged beforehand, and made sure we were in the right place at the right time to get into the paddock before the race. Although we are biased, Trouble certainly looked the pick of the paddock looking a picture in his coat and all-round beautifully turned out. He is a real 'Look at me horse'. He clearly took to the flat right-handed track as he jumped and travelled beautifully for our jockey Ned Curtis and delivered the goods which was fantastic.
After the race, there was great excitement amongst the members and suddenly we have made new friends, lots of congratulations all round, photographs and invited into the director's box to see the race again and more champagne!! To top it off we had had a little 'flutter' on our boy too so rushed off afterwards to collect some winnings. Needless to say, the journey home went a far sight quicker as we made our way back North in joyful spirits.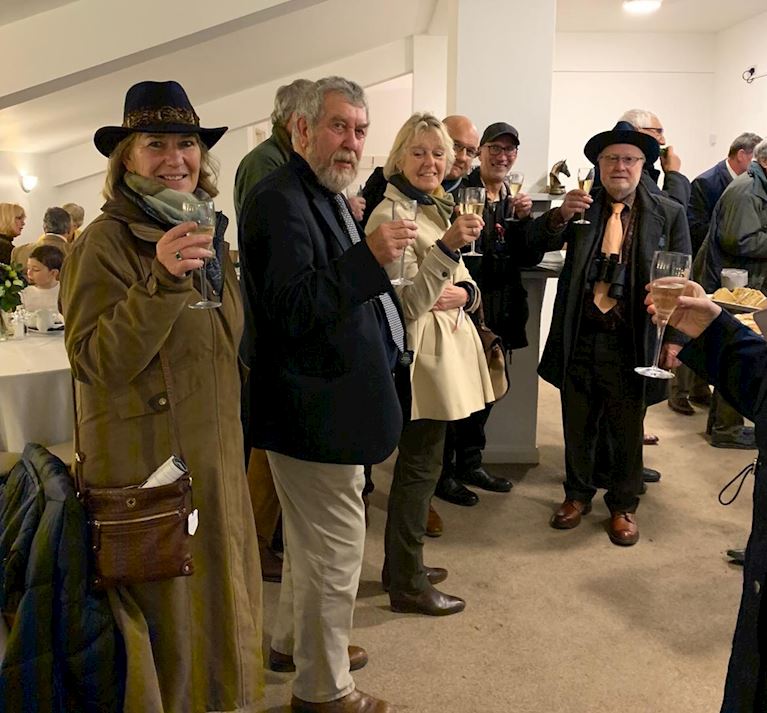 The product of all this excitement is that our husbands are now rather jealous of our involvement and success and are now seriously considering joining the syndicate for the new 2020 intake as well…perhaps I will take advantage of the referral offer! Roll on the next two seasons!'
To find out more about our Cheltenham and South West Syndicate, click here. Membership is available to buy online today, or call Hannah on 07790 356820 to enquire.